OUR CHEAP GAY CHAT LINE !
If you've got a credit card then enjoy our cheap gay chat line. It's the cheapest gay chat line we offer.
FREEFONE 0800 075 4545
0800 Standard network rates apply. Service provided by QX Magazine. Customer help desk number is 0207 966 0018
PAY ONLY FOR THE SERVICE AND NOT THE CALL!
Here are the service costs:
It costs 4p per minute when you open your account with £20 of free calls using your credit card.
When you open your account with £10, we'll give you £20 worth of free calls so you get 250 minutes of really cheap chatline minutes.
You can then chose to top up your chatline account with either £10, £20, £30 at a time.
A £10 top up gets you a further 83 minutes of fantastically cheap gay chatline time.
If you choose the £30 top up we'll give you an extra £10 of fabulous cheap gay chat line time for FREE!
---
More about the QX cheap gay chat line …
Our cheap credit card chat line works like any other once you've called the freefone number and set up your account.
You're given a pin so nobody else can access your account and use your chat time. So it's very secure.
Once you're on the system you can set up your voicemail message box so other qxmen who take a shine to you can leave you messages.
You can leave a voice description of yourself telling other genuine gay guys something about yourself and what you're into.
Once you're up and running you can cruise the messages of guys on line and if any of them take your fancy you can request a one-to-one, which is when the fun really begins!
You can leave messages for guys you like the sound off even if they are not on the line right there and then by simply leaving a message in their voicemail box, so they can get back to you later.
It's great fun, and even if you don't meet up you can still have a really good time chatting and flirting.
And don't forget, the credit card service also has group chat so if you like to hang out in a gang …
---
---
IF YOU DON'T WANT TO USE A CREDIT CARD TO ACCESS OUR SERVICE YOU CAN CALL DIRECTLY ON THE NUMBERS BELOW.
---
---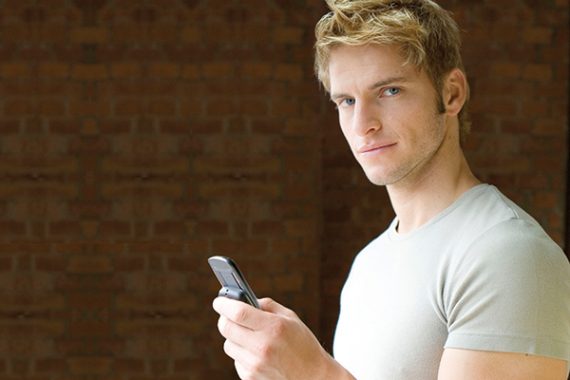 Instant access from your mobile:
Calls capped at 25p per minute
Calls to 84466 = 25p per minute and NO ACCESS CHARGE. Live calls recorded. SP= EWM Ltd. 18+. H/desk 020 7966 0018
---
From your landline call:
10p per minute
0871 600 5000
Calls to 0871 600 5000 = 10p per minute + your network's access charge. Live calls recorded. Information provided by Firststar Ltd. T/A QX Magazine 18+ H/desk 020 7966 0018
---
Further reading:
How to Flirt With A Fitty