I'd like to begin by saying that the plan was to review an anal toy, but due to the fact I've been in-and-out of hospital for a couple weeks (due to fucking up the top of my stomach) I have been advised against any anal play, including douching. For 5 weeks.
---
It's been five weeks. FIVE. WEEKS. WITHOUT. SEX. I am going crazy. What a way to end 2018, right? BUT I thought the show must go on as I am the consummate professional when it comes to orgasms… so let's focus on some external toys. I'll talk through a few affordable options here, as they're a bit self-explanatory but do have unique functions.
Aside from bringing you to orgasm or upgrading your wank, masturbation toys are really good tools to train your dick's stamina. If you are someone who orgasms too quickly, struggles to stay hard during topping, or finds that you get bored of the sensations of anal quickly – dedicate some time to masturbating slowly with a toy. You'll train yourself even better if you can 'fuck them' without holding them with your hands (for example: wedge it between the bedframe and your mattress).
---
TENGA Air Tech Masturbator Ultra: £25.99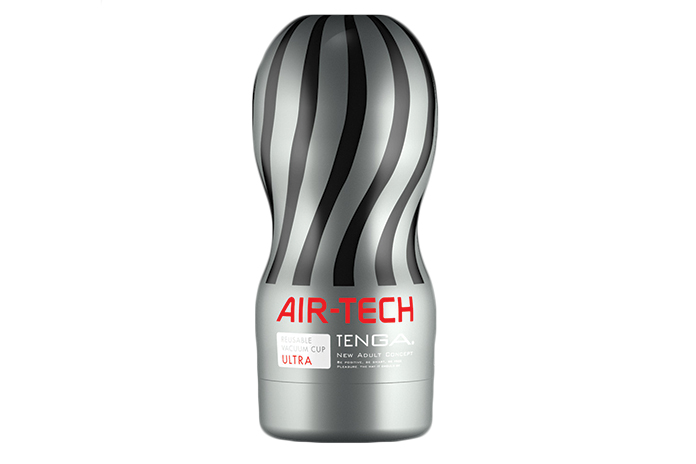 I'd always found TENGA Cups a bit too tight. They always felt great, don't get me wrong but they're throwaway cups weren't suitable for my girth at all. But now, TENGA have introduced the AIR TECH Masturbator in Ultra size. This reusable wanking toy is a hard cup containing a plump TPE sleeve. The internal texture is ribbed, dotted, curved and designed to work flawlessly with suction and penetration. It actually comes with a big sachet of lube, which I used – though I advise pouring more inside the tunnel than on yourself.
Inserting your cock is instantly pleasurable and eerily realistic. The material (TPE) that TENGA use is so lifelike and almost instantly warms to body temperature. Your frenulum is instantly woken up by the differing textures and the grip delivered by the sleeves narrow shaft is really gratifying. I don't know if TENGA advise against this or not… but you can actually completely remove the sleeve and use it as a wank toy itself. Putting it back in is a bit tricky but you can manage.
Reaching orgasm is REALLY simple with this one. It's basically a really delicious upgrade to your wank which also delivers lifelike sensations with the textured shape, warmth and inner-sleeve suction. Plus, it's really simple to wash out afterwards and the TPE material dries really fast. Just make sure it's fully dried before putting it away.
WANK RATING: 9/10
---
PERFECT FIT: THE BOSS Ultimate Ribbed Stroker: £27.99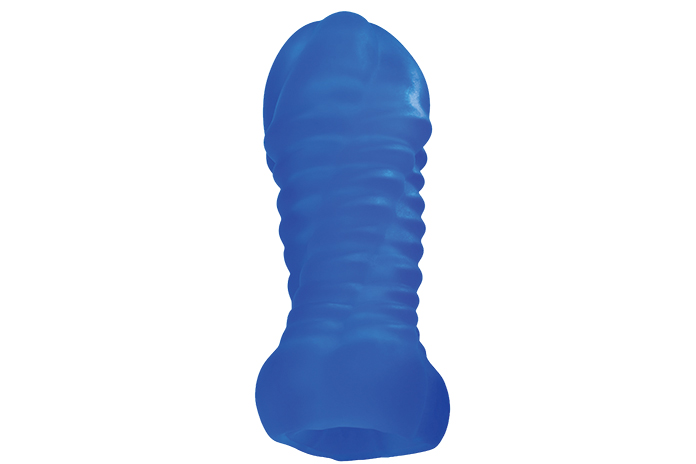 Toy pretty much does what it says on the tin. It's a ribbed stroker. Arriving in bright blue and made from a blubbery material, this 'bullet' shaped wanking sleeve features a twisting shape with ribbed detailing on both the internal and external of its shape. You aren't getting anything too sophisticated with this toy, but it doesn't need to be. I want to repeat 'blubbery' because this is how The BOSS feels when you're holding it. It's big, squishy-yet-firm and almost juicy. It feels like if you squeeze it, it's going to release juice everywhere. (I mean, it may do after you're finished…).
Simply squeeze some water-based lube through its shape and squeeze it to distribute it around its internal canal. I used SPIT to Reactivate Water Based lube. Much like the TENGA, The BOSS is full of textured ribs that satisfy your dick. It's almost impossible to not enjoy how it feels and to look at it is quite pretty as it's a bright blue. You can also actually turn The BOSS inside out and enjoy its swirling ribs which are on the outside to help you grip.
Once again, with any textured sleeve, reaching an orgasm is an easy task as you're quite simply grinding something ribbed, warm and juicy up and down your knob. And that's what The BOSS does. It's what I call a 'posh wank' and is something handy to have in your bedside drawer.
WANK RATING: 7/10
---
The SUPER SUCKER 2.0 by Doc Johnson – £24.99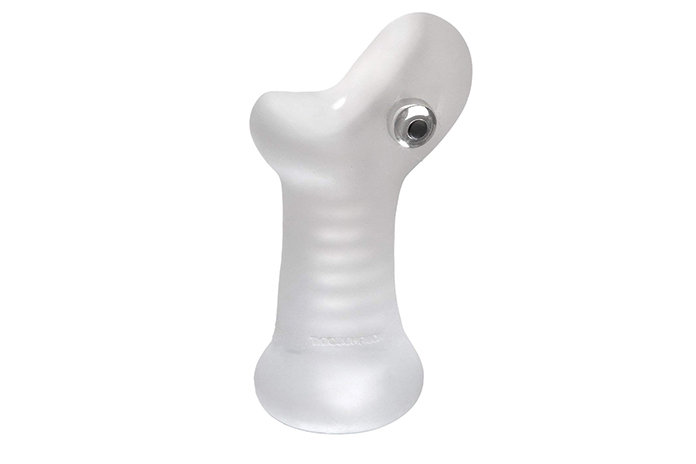 We've had this product in stock at Clonezone for years, as people just seem to like it. Super Sucker is a carefully designed sleeve, created to imitate the feelings of suction as it graduates in a diamond shape to a tight hole at the top and base. Inside are ribs which you can see from the external, as the whole thing is 'misty clear'.
The Super Sucker has a bullet at the top which sends vibrations through its shape. Wanking with it is simple as you quite simply squeeze it like the others, butt he added bonus with this one is when you squeeze the area with the bullet and clamp it with your hand – it sends the vibrations down your shaft. I'm not going to lie and say this is a big, explosive experience. It's just a tingly wank and is a fun accessory to have laying around.
One bonus of the Super Sucker is it comes with the bullet which you can use separately. Use the bullet externally (nipples, penis head, hole, balls, perineum etc.) but to NOT insert it. Your hole will swallow it.
WANK RATING: 6/10
If you have any questions about kinking up your sex-toy box, tweet me using @HelloIAmTopher. Remember to use 'TOPHER' online for 10% OFF. Available at clonezone.co.uk & in-store too.