CockyBoys is revolutionising the way guys watch gay porn by merging mainstream and adult erotica like never before! 
Award-winning, independent adult film studio, CockyBoys, had a whirlwind 2013 following a string of successful films and world news stories, the likes of which were essentially unheard for a gay porn studio. The New York City based studio has managed to garner headlines around the globe through various mainstream outlets such as the award-winning news site Salon.com, BuzzFeed, The Huffington Post, The Village Voice, New York Magazine, OUT and even Cosmopolitan Magazine! For the first time, the mainstream media is discussing a gay porn studio's work, its owner/director Jake Jaxson – Salon.com called him "the Walt Whitman of Gay Porn" – and the new paradigm shift in gay adult entertainment that's being ushered in by CockyBoys.
More shocking than the mainstream media coverage of a gay adult studio is that, at a time when most people equate the porn industry to declining sales, CockyBoys reports to have literally doubled revenue in 2013 after seven years in business! Today, in 2014, CockyBoys stands as not only one of the most popular and talked about studios in the business, but also one of the most profitable.
So what makes CockyBoys more the exception than the rule? For starters, the owners are three men in a 'throuple' relationship living in New York City with their dogs. Owner and director Jake Jaxson, Director of Photography, RJ Sebastian and Creative Director, Benny Morecock run CockyBoys like a family business and extend their family setting to the models and staff, creating more of a family vibe than a corporate one. Their non-traditional approach to running a gay porn studio, and to adult filmmaking, has won them the praise of not only the mainstream media, but also their peers.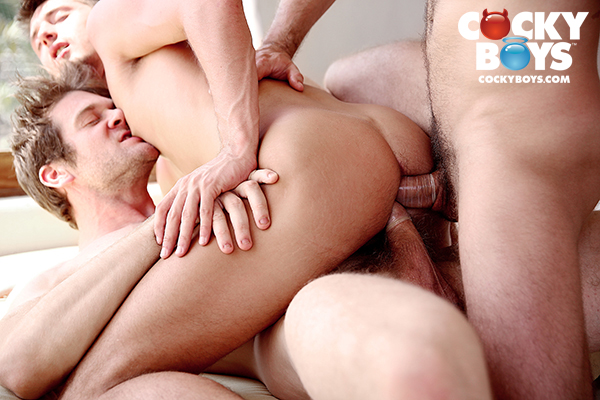 In 2013, CockyBoys stole the show at the industry's raft of awards ceremonies, cleaning up at The Grabbys, known in the industry as the "Oscars of Gay Porn", taking home the top prizes in some of the major categories. Exclusive Max Ryder shared the accolade of Best Newcomer with Tate Ryder and Jake Jaxson was crowned Director of the Year for his groundbreaking movie Project GoGo Boy, which proved so popular it went on to win Best Movie and Fan Favorite Movie of the Year too! The studio swept the boards at the 2013 TLA GAY Awards, winning more gongs than any other studio in a single year, including Content Producer/Studio of the year, Must-Own Movie of the Year going to Project GoGo Boy, Jake Jaxson winning Director of the Year, along with runner-up nods for models Jake Bass and Anthony Romero and Jake Jaxson for Most Entertaining Twitterer. The 'yoga orgy' scene from Project GoGo Boy won Best Sex Scene at the 2013 Cybersocket Awards too!
When CockyBoys weren't busy picking up awards they were invited to the prestigious Vassar College, cited as the most selective liberal arts college in the U.S., for a panel discussion on life, love, and the art porn movement that they have ignited. The discussion was centered on Vassar student Jack Levinson's senior thesis and original play Gay Sex, which was based on the New York Magazine article by Molly Young entitled He & He & He which was a feature story about CockyBoys.
In 2013 the studio signed a new model who they named Jett Black. They wasted no time in making him a star, while carefully crafting and working the PR story of the model's past with the Royal Winnipeg Ballet, until he was booted out for signing with CockyBoys. This lead to both Jett and CockyBoys becoming the center of an international news story and the world's news media had a field day.
So what has the studio got planned for 2014? Bruno Gmunder is releasing a CockyBoy's book in March called A Thing Of Beauty, named after the studio's hit movie, and CockyBoys is in the midst of another epic feature entitled Answered Prayers. This new project is already getting rave reviews from critics. Gay porn tastemaker Zach Sire of Str8UpGayPorn.com, said, "CockyBoys' Jake Jaxson keeps raising the bar so high for himself, he'll need to learn how to pole vault before he releases his next feature."
• Check out CockyBoys.com to watch all their award-winning movies available for download or streaming for members. You can purchase all their hit movies including The Haunting, Roadstrip and A Thing Of Beauty on DVD from all good DVD stockists.