At 6'1, British hunk Dillon Buck fits the bill as the perfect daddy-type. Here, beefy, hairy and hung Dillon takes time out of his hectic schedule to chat to QXMEN…
How and why did you get into the porn industry?
It was purely by chance, I got noticed by one of the directors at MenAtPlay and asked to come in – which I did, and as they say, the rest is history.
What was your first film?
The Dr. Richard series released by online site MAP were my first, however my first film release for general distribution was entitled Tools by Bulldog XXX.
What's your favourite porn movie of all time?
Too many to mention, but pride of place in my collection and all time favourite is Jake Tanner and Ed Dinakos in Colt's Muscle Ranch.
Which two guys would make up your fantasy three-way?
Oh, so easy – Pete Kuzak's a definite, and Gage Weston.
If you had the chance to direct a scene that you're in – and choose the other models – who would you choose and what would happen?
Starring Tober Brandt, Jason Ridge and Dillon Buck. Jason played a cop in TitanMen's Cop Shack On 101 and Crossing The Line: Cop Shack 2, and I've fantasised about him as a cop ever since!
Good friends Tober and Dillon are out all day on their motorbikes, when at the end of the day they pull over to a stop to take a piss. Parking their bikes, they head over to the seclusion of the roadside undergrowth and unzip their one-piece leathers. In view of each other, they are soon aroused and Dillon gets ahold of Tober's piece which quickly gets slicked up as the shaft is licked and sucked on. Taking turns with their leathers still half on, alternating working on each other's nips with their exposed naked chests. Losing track of time, they don't notice that their abandoned bikes have aroused the interest of a passing cop (Jason Ridge), who pulls over to investigate. Imagine his surprise at the sight he stumbles upon?!? But Tober and Dillon get ahold of him and show him exactly what law enforcement is all about, taking turns at pounding his sexy arse. I could go on in more detail ….. but need to leave something for the readers' imaginations
Who's the hottest TOP in the industry?
You mean besides myself? Vinnie D'Angelo. He plays a corrections officer in Titan's Folsom Prison in a scene with Alex Baresi and Tony Buff – HOT!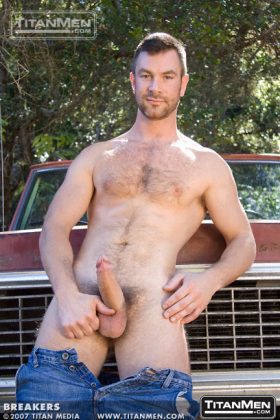 And the hottest BOTTOM?
Gage Weston.
So, what turns Dillon Buck on?
Rugged, hairy masculine men.
Do you have any fetishes?
LOL… Not already evident is it? Leather (with men in it) and rubber …. oh, and motorbikes!
What's your favourite position?
Doggy!
Is it a turn on watching yourself performing on screen?
In all honesty, I've hardly watched myself on screen and those times that I have, have been more self critical than aroused.
Do you find it easy to perform on cue?
Mostly. It always helps having good chemistry with your scene partner(s).
What do you do to relax?
Reading, as I travel a lot. But I also love to walk my dogs, play on my XB360, am a keen blogger (www.DillonBuck.blogspot.com), movies, designing clothes and hanging out with friends.
What's your favourite part of your body?
My cock – it gives me hours of enjoyment.
If you weren't in the porn industry what would you be doing?
Photography.
Where do you see yourself in ten years?
Having made some award-winning porn and become a recognised photographer.
Have you ever had a stalker?
Sadly yes, and still do! But I think they mean well.
What music are you currently listening to on your iPod?
Coldplay – their new album is awesome.
Describe yourself in three words…
LOL …. BIG FUCKING DICK!  No seriously, three words: big hearted guy!
Any plans to visit London any time soon?
Yes, for my birthday later this month for a week.