28-year-old new cummer Dylan Saunders takes a butt-clenching 70 inches of cock in Chi Chi LaRue's new movie 'Black Balled 6: Under The Hood'. Once he was able to sit down again, QXMEN put a few questions to him…
How did you get into the porn industry?
The thought of people watching me have sex has always been a HUGE turn on for me. I decided to give it a shot, sent some pictures in, and the rest is history.
Is Black Balled 6: Under The Hood your first film?
No, I have been cast in a couple of productions for Falcon Entertainment.
The role's quite a tough challenge, even for the most seasoned performer. Were you nervous on your first day on set?
You know, I was a little nervous when I initially was cast in the film. But Chi Chi LaRue called me about a week before the shoot and all nerves were put to ease, because she was so comforting and professional. Plus, all eight men were complete gentlemen… When they weren't pounding me, of course.
"ALL EIGHT MEN WERE COMPLETE GENTLEMEN…WHEN THEY WEREN'T POUNDING ME, OF COURSE."
If you had the chance to direct a scene that you're in – and cast the other models – who would you choose and what would happen?
I would take Benjamin Bradley and Blake Riley, get the three of us nice, hot and sweaty, then drop to my knees for a good half hour, get them revved up, then let them take turns on me for as long as they needed
Who's the hottest TOP in the industry?
Jason Adonis, when he was actively performing.
And the hottest BOTTOM?
Other than me? I would have to go with Roman Heart.
So, what turns you on?
Threesomes, orgies, performing in front of an audience, having someone lust after me, then letting them get their way and have me.
Are you top, bottom or versatile?
Bottom…all the way (No pun intended).
Do you have any fetishes?
Big dicks! Honestly, what gets me going is seeing someone get so much pleasure from fucking me. I'm very much into pleasing my men… So, I guess that would be a fetish of mine.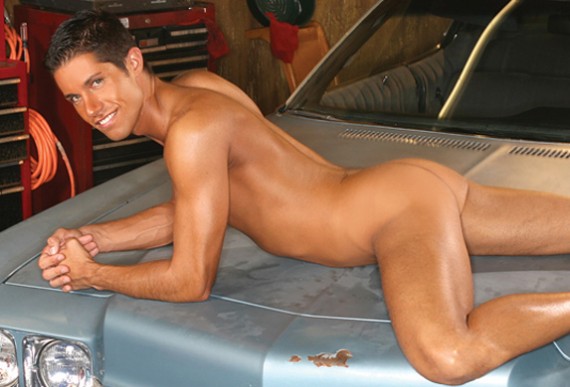 What's your favourite position to get fucked?
I like to start with a guy on top of me, moving his body up and down into me…then I want him to flip me over and fuck me long and hard.
Is it a turn on watching yourself performing on screen?
Yes. If it's with the right performers, I am immediately reminded of how erotic it was at the moment it was being filmed.
Do you find it easy to perform on cue?
Yeah, as far as I'm concerned, this is a business and you gotta be ready at any given moment to do whatever is asked of you.
What do you do to relax?
Listen to some dance music on my iPod.
What's your favourite part of your body?
My legs and ass.
What's your favourite porn movie of all time?
Kristen Bjorn's 'Parashooter'.
What did you do before you started in porn?
Graduated from college in Santa Barbara, California.
Where do you see yourself in ten years?
Hopefully at the top of my game, healthy, happy, probably living in L.A. again.
Describe yourself in three words…
Fun, adventurous, shy… Seriously!
Finish this sentence. The best part about being a porn star is… Working with some of the world's hottest men, and getting paid to do it!
Any plans to visit the UK any time soon?
Hopefully one day soon!