You'll find Eagle London just south of the river Thames in the heart of Vauxhall, London's newest 'gay village'. With legendary nights such as Horse Meat Disco and bear social Tonker alongside the gender-bending TrannyShack vs. Stunners2, and the plethora of men-only cruise nights, Eagle London has to be one of the most eclectic gay pub and clubs on the London gay scene! 
---
Now, we could spend ages talking about Eagle London's club nights with world-renowned superstar DJs and live stage performances by international House divas. But hey, this is QXMEN Magazine and we'd much rather tell you about their horny party nights and men-only cruise sessions.
CRUISE CONTROL
9PM – 2AM: MONDAY THROUGH THURSDAY
Booze and cruise with a horny and very friendly, up-for-it crowd of blokes at this sexy weeknight men-only cruise session. It's FREE to get in before 10pm, then only £3 after. And it's FREE all night for Eagle London members and students with ID.
TONKER
9PM – 3AM: EVERY FRIDAY
This popular, long running night attracts a great mix of guys, from bears and beefy blokes to boy-next-door types, sexy daddies and rugby players! Plus you get ice-cold beers, Vauxhall's largest beer garden and the best tunes from promoter Tim Jones and a selection of the hottest guest DJs. It's FREE to get in before 10pm, only £6 after, and just a fiver for Eagle London members.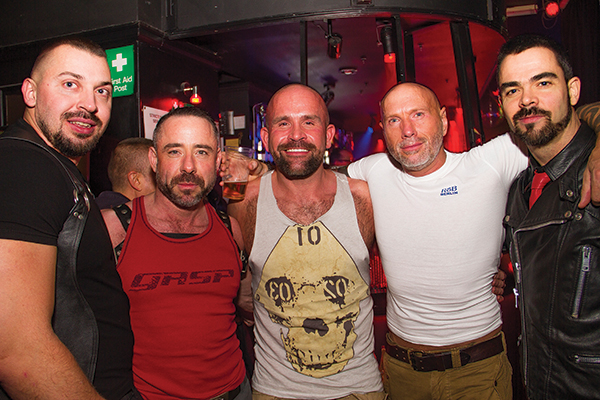 BASTARDS
9PM – 4AM: SATURDAY OCTOBER 4TH
Tonight sees the launch of Bastards, Eagle London's new night of music, men and mayhem on every first Saturday of the month. Hotwired residents, and total bastards, Jon Delano, Lucious Flajore and Wes DB indulge their love of all things electronic at this new monthly party for disco cats, bouncy bears, muscle Marys, funky fairies, fetish freaks, T-girls and their straight mates. Jiggle your tits off in the pumping Pink Room Danceteria then schmooze in the steamy Black Lodge out back! Entry's a fiver all night.
CRUISE CONTROL SATURDAY TAKEOVER
9PM – 4AM: SATURDAY OCTOBER 11TH
Tonight's the launch of Cruise Control Saturday Takeover, Eagle London's new full throttle men-only session on every second Saturday of the month. Billed as a full-on blokes party, the night will offer a traditional Eagle-style cruise space with a super hot stripper and even hotter House music. It looks set to be the best value cruise session in London with £3 beers all night, Vauxhalls ONLY pool table, cruise area, dark room, chill out beer garden and London's friendliest sexiest bar team. It's FREE before 10pm and then a fiver after and FREE all night for Eagle London members.
R18 UNRESTRICTED
9PM – 4AM: SATURDAY OCTOBER 25TH 
Let R18 heat up the end of your month with a huge load of XXX-rated guy-on-guy action, a horny up-for-it crowd and busy dark room, It's on every fourth Saturday of the month and this time around horn dog porn stars Mickey Taylor and Riley Tess will be live on the Eagle London stage at midnight! Deep and dirty R18 resident DJs Astroboy and Eduardo Herrera keep the action hard and fast with their pulsating dark beats for you to get nasty to, and the door policy is 'All are welcome, come in what makes you feel good, but we'll offer free entry to guys who come dressed to impress!' Entry's £6 but it's FREE before midnight for under 25s (with ID) guys in gear and Eagle London members.
• Eagle London, 349 Kennington Lane, Vauxhall, London SE11 5QY – Tel: 020 7793 0903