GEAR London, the Berlin branch's slutty sister is a one-stop-spot to shop for all your fetish needs. They're having a big bash to celebrate ten years of GEAR, so we caught up with head bitch in charge, Anthony (the bit of alright pictured, phwoar) to find our more.
---
Hey Anthony! Firstly, what's your role at GEAR London?
Hey guys! I am GEAR's UK Base Manager (although I am known to use HBIC from time to time). Behind that slightly pompous title actually hide very various responsibilities : from ensuring our great team delivers excellent customer service on a daily basis to visiting Adidas HQ and see what they have in store for the following season.
How long have you been working for GEAR?
I joined GEAR in November 2017. When I lived in Berlin a few years ago the Berlin store was just around the corner and already back then I was both curious and inspired by the brand. So after a few years travelling around and then finally settling in London, GEAR came as a natural choice.
What's the best thing about working for GEAR London?
There's never a dull day at GEAR London! I could come into work in the morning looking forward to an uneventful day (especially welcome on Monday mornings!) and all of a sudden have an avalanche of issues to deal with. As masochistic as this sounds : I love it. Part of what keeps me motivated to do my job and give it my best.
What sets GEAR apart from other gay fetish stores?
Where to start?! Firstly, let's just say there aren't many stores where you can shop for cool Adidas sneaks to wear with that slutty singlet you just found at the bottom of your bedroom drawer as well as a big fat dildo and lube to keep you going during these cold winter nights… Sound familiar? Yeah I thought so.
Joking aside, customer experience is truly at the centre of everything we do at GEAR. Whether you're popping by quickly on your lunch break or visiting us for a leisurely browse at the weekend you can always expect great customer service, a friendly smile and a drink.
What have been your highlights of 2018 at the store?
We're lucky enough to have a spacious store that enables us to host some great events throughout the year. The first thing that pops to mind is the pre-party we had in July for the Pride edition of MASTERY. The store was full of geared up guys enjoying a beer while learning a trick or two about bondage or having their boots taken care of by MASTERY's regular bootblacks.
Tell us a few of your absolute favourite products?
We're very lucky to stock some of the best quality fetish gear there is.
A personal favourite are WESCO boots, who are celebrating their 100th anniversary this year. Known around the world for their exceptional craftsmanship, they aren't exactly budget friendly but will last a lifetime and can be personalised.
On the rubber front, Berlin designer RubAddiction has got me addicted (get it?). Their rubber bleachers are a great look, whether you're a skinhead or not, available in a great range of colours and made of thick rubber so they won't tear in the middle of the action.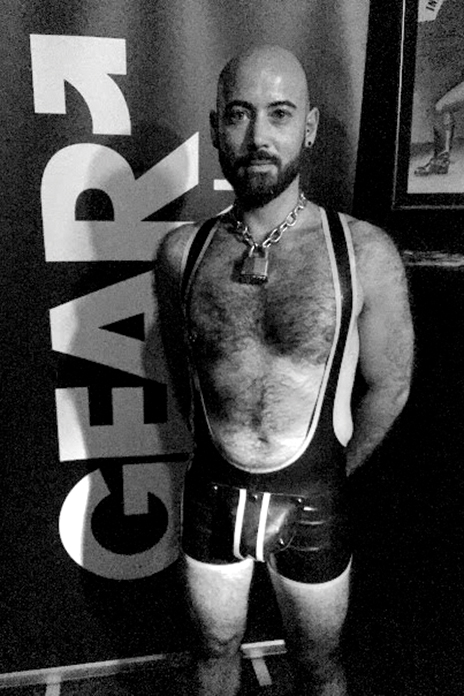 What's your biggest seller of 2018?
Without much of a surprise to anyone who is familiar with the brand, our iconic GEAR t-shirts are a big winner this year. Whether you're a PUPPY or HANDLER, a MASTER or SLAVE, more DADDY than BEAR or just a general SLUT : we have the t-shirt. And those are just a few examples, plenty more in-store with new designs every few months.
GEAR's birthday is coming up! What have you guys got planned?
Exciting, isn't it? We have a whole week of events planned to celebrate to 10th anniversary of the brand. The festivities will kick off in Berlin on Wednesday 23rd January with a party at the legendary Prinzknecht. But don't worry London, things will get kinky at the weekend! On Friday 25th January we'll be hosting our GEAR party at The Backstreet (Mile End). This is a great occasion for us to thank our customers by organising a party that celebrates all the fetishes of GEAR : leather, rubber, sportswear, skinheads, pups, …
Doors open 10pm-3am with free entry and welcome drink for our GEAR card holders (free to sign up in-store).
For the brave ones who will have survived the Friday night, Saturday evening will be busy in the store with our pre-MASTERY Champagne reception (18:00-22:00) where guys can come celebrate not only 10 years of GEAR but also 5 years of MASTERY! And then it's all off on the GEAR shuttle direct from our Shoreditch store to MASTERY!
What are your goals for 2019 at GEAR?
As soon as I've recovered from our birthday week my main goal will be to widen our great range of products. The experience we've gained over the last year has enabled us to get to know our customer base much better and therefore tweak our offerings.
Also, is it too early to say that I'm already looking forward to Recon's Fetish Week?
Finally, what's YOUR biggest fetish?
I'm a leather guy at heart and have been since my early teenage years. When I'm not chained to my desk or to the till you can often see me at the Leather Social (every first Sunday of the month, upstairs bar in Comptons) or at The Backstreet. I have been venturing out a bit more in rubber lately though and loving it!
GEAR London is at 75, Great Eastern Street EC2A 3HN London, UK. Drop in for a visit or check out www.gearlondon.co.uk