As the global gay fetish community has converged over time, so too have a variety of fetishes from different parts of the world. Forms of ancient Japanese bondage using rope; 'kinbaku' and 'shibari', have earned loyal followers in the gay fetish scene worldwide.
---
What's different about Japanese rope bondage?
Like other styles of bondage, Japanese rope bondage is primarily about restricting a sub's movement and autonomy. Yet due to its origins (which we'll look at in more detail later), Japanese rope bondage is just as much about the look of the bondage itself as a limitation of control.
In its purest form, Japanese bondage is considered an artform and is traditionally carried out using thin lengths of jute or hemp rope, called asanawa, tied into intricate patterns of knots and ropework around the body. The rope bondage is so complex and the rules that govern it so strict that it can take hours to bind a sub. Generally, the ritual of binding is the main source of the kink, rather than the end result, although some rope patterns leave the genitals exposed so that play can continue despite the binding.
While popular Western-style bondage techniques give the Dom command over their sub, Japanese bondage is historically less about power play and more to do with collaboration and cooperation between partners. The binding of one partner is seen as a route to a meditative, almost spiritual frame of mind, as they slowly surrender control through the addition of each new length of rope. Of course, fetishes are very much up for personal interpretation, so there is less emphasis on this side of Japanese bondage for some fetish men.
What are kinbaku and shibari?
Arguably the more accurate name for Japanese rope bondage as a kink, 'kinbaku' literally means 'tight binding' and refers specifically to the sensual act of binding a sub. 'Shibari' is the Japanese word for general and decorative rope tying. Today, the term shibari has been adopted into initiated circles of Western fetish culture to mean much the same thing as kinbaku, although strictly speaking its translated meaning is less to do with sex and fetish.
Trying Japanese bondage for yourself
The rope patterns of Japanese bondage can be tricky, so if you want to give it a try, make sure you're feeling patient. Plus, as with all types of bondage and BDSM, kinbaku and/or shibari should be experimented with alongside someone you know and trust.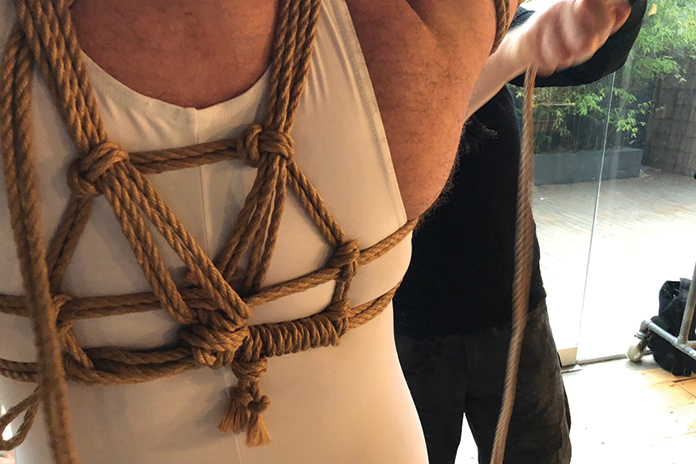 Although hemp or jute rope is customary in kinbaku, silk fetish rope can be more comfortable to begin with. Traditional Japanese asanawa strands are between 6-8 metres long, but shorter lengths can be easier to manipulate and work just as well. The Takate Kote, or arm box tie, is a good place to start as it's the starting point of many kinbaku ties that eventually bind the whole body.
Remember to keep safety in mind when trying any kind of bondage, kinbaku included. Don't tie the rope too tight around your sub, aim to keep them immobile but don't cut off the circulation. Equal tension on both arms and legs can help them to stay comfortable, and will improve the look of your rope bondage.
Don't forget, there are kinbaku and shibari fetish men in the Recon community who will be keen to show you ropes if you need a little extra guidance. And, if there are other fetishes you'd like to learn more about through us, please let us know by sending your ideas to [email protected].
Connect with other pups and potential handlers on the Recon community at www.recon.com