We're always on the lookout for interesting things that are happening on the scene so when our diary told us that it was nearly time for the annual CROWNING of Mr. Leather UK 2019 we decided to check out the contestants. We were excited to learn that our friend Mark (aka LeatherMarkUK) was in the running and invited him in for a quick chat to get the lowdown!
---
So Mark, tell us a little about yourself:
Well you already know my name and that I'm into leather, plus you know where I like to have lunch , remind me to call you next time I lose my keys!
I'm a total Londoner through and through – I was born and raised here and I live and work in this great city. My interest in fetish definitely started at a young age, I remember always "volunteering" to be an Indian when we played 'Cowboys and Indians' as kids because they were the ones who always got tied up. As I grew up that developed into the kinkier side of relationships and the rest is perverted history.
How long have you been into fetish/leather?
The short and cliché answer to that is always, which is the reply most guys will give when asked that question. For decades I was into rubber and total coverage, but always had an eye for Leatherman, that big, stern masculine look was something a was drawn too (sexually). My 'hallelujah' moment when I really discovered leather was when I was learning to ride my motorbike – I just needed to have a one-piece suit for safety reasons, (of course!), which quickly turned in to a wardrobeful of them! I'd wear them to clubs with rubber underneath at first, but quickly the rubber was left behind and I've just been a leather wearer ever since. I discovered not just a new kink, but a whole, supportive community.
What is Mr. Leather UK all about?
The title holder is a representative and you've been charged with upholding what it means to be a Leatherman. One of the core values is to be approachable to all and engage with the community, a point I feel is particularly important. Far too many guys new to the leather scene can initially feel that it's closed to them, where that's just simply not true, and that's one of the perceptions I want to change. The leather community is just that, a community – you can go anywhere across Europe and the World and meet likeminded people and feel welcomed.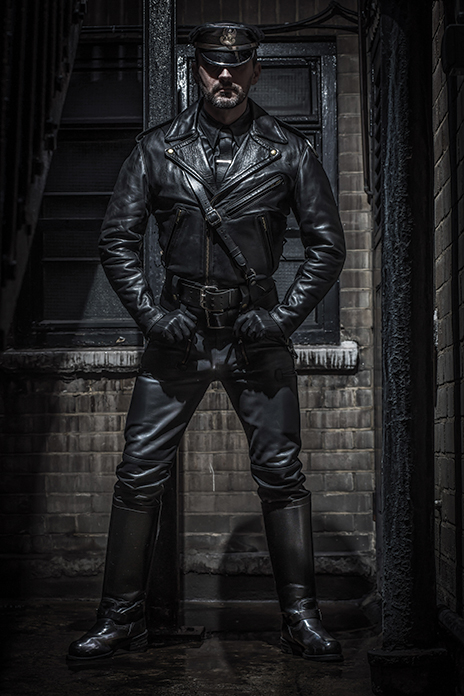 Where and when is the contest being held this year:
The contest is part of the Bristol Fetish Weekend( 15th-17th March), and is overseen by representatives from the various UK Leathermens' organisation's which comprise of London Leathermen, Birmingham Fetishmen and Leather West, it's all very professionally organised. This year it's at the Queens Shilling Club in Bristol on Saturday 16th March. It's going to be a great evening, no matter what the outcome, the main thing is that we all enjoy it, and all of the contestants would be great representatives. However, of course winning would be amazing and I'll do my upmost to make those who voted for me proud.
If you win what do you want to achieve?
That's an easy one to answer, I'm going to continue and expand on the amazing work done by my predecessors. Carrying on the important duty of elevating, educating and what I think is most important of all, welcoming and teaching the "next generation" of emerging leather men who are making their first tentative steps onto what can often be a daunting journey of self-discovery. It's all too easy to ignore the new, quiet guy in the corner, the guy who's first night it is, and whose first experience will always stay with him, I want him to remember that leather isn't just sexy gear on hot men, it's about belonging to a community, one that you'll belong to worldwide.
Now for some quick-fire questions:
Your favourite fetish item: That would be my Muir cap. It really makes what I'm wearing feel complete and forces me to stand upright (which also means I can actually see where I'm going!)
What's the most expensive item you've bought: I've just put a seriously large dent in my credit card and bought a set of custom Langlitz leather. Let's just say I'll be eating beans on toast for the next year!
Top or bottom: Why stick a label on it when it's easier just to go with the flow and enjoy the moment… but if push comes to shove and I had to choose, then I'd be Top… no bottom… no wait, I'd be top-ish, is it too late to change my mind again?
Relationship status: Married, to my husband Scott, we've been together 6 years and tied the knot last year, it was a real big family event, I spent most of the day a blubbering mess – I do have a softer side behind the whole leatherman look, too!
Favourite bar/club: That would be The Backstreet in London's East End, it's just around the corner from Mile End tube station and I've been going there since I was 18! Imagine what a bar would look like if was designed by Tom of Finland himself, it has that authentic "leathermen's" hunting ground vibe to it, couple that with thumping heavy trance music and cheap booze – what's not to love?
Mr Leather UK 2019 contest you'll Queen Shilling Bar, 9 Frogmore St, Bristol BS1 5NA
Insta: LeatherMarkUK
Twitter: LeatherMarkUK