We Caught up with THE BOSS
---
Hi Damian, first things first – tell us about yourself; where are you from? Where do you live now?
I'm originally from Eastern Europe and I've been London based for 6+ years now, having spent a year and a half in Birmingham before that.
On to the porn stuff: how long have you been working in the adult industry?
The first leg of my porn career spreads over two years – from 2011 to 2013. I then quit porn for over 5 years and had my return just recently, in September 2018.
What was your first experience shooting porn like?
Oh, it was seriously exciting! I was living in Germany at the time and had to travel from south-west Germany near the French border all the way to Berlin which made it feel like a real adventure. It was a solo scene i.e. I had to pose nude and masturbate in a room while the camera guy is filming on two cameras. I was living, not gonna lie.
What made you choose to get into the industry?
I've always been fascinated with gay porn. At about 22 I decided, out of curiosity and horniness, to apply at Cazzo, one of the biggest German studios back then. They were actually interested and wanted me to make my way to Berlin for a casting but I wasn't able to afford a trip to Germany. I decided to leave that idea alone and completely forgot about doing porn for a while.
Broadcast media is what I've wanted to do since the age of 13 when I fell in love with the magic of music radio. But living in a small ex-Communist Eastern European state came with its inevitable limitations. I had to elevate myself so I could be seen as equal in the West and the way to do that was through education. So two years later I had a Bachelor Degree in Economy of the Intellectual Property from a top university in my country and was doing a three-month internship at one of the major radio stations in Germany. At that time I had already worked as a presenter and reporter for the biggest music channel in my home country and had been the Music Editor for another local music channel for two years. I was gonna do my master's in Germany too but while researching the German universities I accidentally found the perfect course in Birmingham – a Master of Arts in Music Radio. It cost way above what I could afford but it was exactly what I wanted.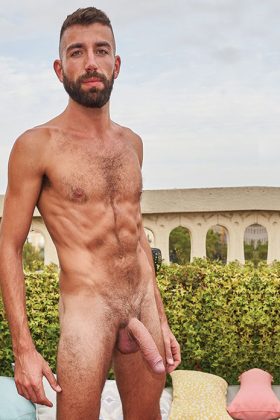 I applied for that course, got accepted and I was gonna pay for my master's myself. My parents are ordinary people, teachers. I don't come from a wealthy background. They had already done above and beyond to raise me and put me through uni for which I'm eternally grateful. But after saving absolutely every euro cent from my internship and swimming pool lifeguard salaries, I had collected only about 1/3 of the money I needed. Loans were only available for undergraduates so I had to be creative.
It was then I realised I was actually in Germany and I now had the chance to easily make my way to Berlin and make one of my other dreams come true – to be in gay porn. I had a very clear idea of what I wanted to do – I was gonna use the porn industry to fund my future, have fun and make one more dream come true in the process.
What do you enjoy about working in porn?
Look, growing up in a very conservative environment I had no one to tell me that liking dick is OK. There were zero gay role models in the society I grew up in. Even today calling someone gay is deeply offensive over there. Basically gay porn was the only place where I could see and feel that being gay is ok.
I have to be honest, I get a huge self validation for being good enough, hot enough to be in porn, to be one of those guys I used to watch and wank to as a teenager. I know it might sound a bit twisted and damaged but this hetero-normative world we live in inevitably damages all of us in weird ways.
Doing porn in a strange way makes me feel good about myself. It's like a huge FUCK YOU in the face of all homophobes. Not only am I ok with being gay but I love myself and I will be filmed doing exactly what you find disgusting. Because it's not. I'm proud of my sexuality and it fucking love myself. And dick. It also allowed me to do things and experiment in ways I might have never had the chance to. Not to mention the massive sexual health knowledge I acquired because of being a porn model.
Do you have another career outside of the adult industry?
Yes, I work for a massive American corporation, which owns numerous broadcast brands amongst other various ventures and I personally focus on TV and events. We have volunteered employee resource groups and I'm part of the steering committee of the LGBT one, having helped organise our London Pride activities since 2015 and I also lead our pride initiatives on TV. It's beautiful that my company has given me, a gay guy with experience in porn, the chance to look after exactly what I represent – our Pride & LGBT initiatives on top of my regular duties.
Would you say you've experienced any downsides to the adult industry?
Sure, I've had studio owners/ directors try to take advantage of me, touching me inappropriately during castings and refuse work when I've made it clear I am not interested in doing anything with them. I had a very shocking case of frendetta too. When my day job was offered to me back in 2013 someone anonymously sent a bunch of my porn videos to the highest level of management, threatening to go to the press if they hire me. I had only spoken about the job offer to a very close circle of friends and family, which meant it was one of them.
Fortunately, turns out no one in the UK really cares about have you done porn as long as you did it with consent and it was all legal of course. I was completely honest and direct with the HR team and the feedback was beyond heartwarming. They told me they offered me the job based on my education, previous experience and they didn't care what I've done in my past or in my free time. But it was just around the time Russia had passed that anti-gay propaganda law and there was a valid concern, since the role I was offered was London-based but to do with the Russian branch of the business. If somehow this had actually reached the Russian press they feared it could put our Moscow based colleagues at risk. That's why they made a switch in the department putting someone else in the Russian role I was meant to have and giving me a UK focused role.
All of this, however, can't compare to the things my internal saboteur sometimes tells me. I can't change where I grew up and how my family sees the world. Despite having learned loads and grown a lot since moving the the UK, there are still moments when I feel absolutely ashamed and guilty. It's something I'm working on, life is what you make it and we give meaning to things ourselves.
Have you experienced any discrimination from guys who find out you have worked in porn?
My ex-boyfriend felt threatened by the experiences I've had through porn, unfortunately. But it's probably also my fault for not telling him enough how much I loved him and how gorgeous he was. I genuinely believe that if you love yourself there surely are people out there who'd love you too, the rest can fuck off.
What's dating like as an adult performer?
I actually haven't dated properly in ages. I had two long term monogamous relationships in the 5 years when I wasn't doing porn. I've been single since July 2017 as I had a very long recovery period in which I started teaching myself self love and self appreciation again. Coming back to porn is part of this process and I don't feel absolutely ready to date again yet. I'm a hopeless romantic, I do have this idea of building a home with my future partner, having kids and living happily ever after as an unit. Doing porn somehow doesn't really match with that ideal and I either need to wait, which I realise how stupid it sounds, or challenge myself with a new type of evolved relationship in a which we've connected at a higher spiritual level, not just physical. I want to fall in love with someone's mind not just the physical aspect of their being.
What have been your favourite scenes to shoot?
Porn gave me the chance to live some of my biggest fantasies and that itself has been really exciting. I've filmed in real football and rugby venues which is a massive turn on but my favourite scenes are the natural ones where I'm in full control – no script, no acting, just me and a hot boy having pure sweaty sex. It's all about the chemistry with your scene partner.
Any advice for aspiring porn actors?
THINK! Before going into porn I asked myself: "What if I actually do get a job in the company of my dreams and find my nudes cello-taped all over the whole office one day? How would I react?" The answer I gave myself was I'd say "Thank you, but let me know in advance next time so we can choose the best shots together!" – that's when I knew it's my reaction that gives context to the situation. Be confident, love yourself and don't be afraid!
Ask yourself; is this really the best thing for you? Are you ready to live with it all your life? How would it reflect on your family and how important is that to you? Don't do it for the money only, have a higher aim. Don't let the porn industry use you, be smart and you use the porn industry to your advantage. Do what you think is right for you and don't live your life based on society's expectations. No matter what – LOVE YOURSELF! Cuz you're worth it!
What scenes or films do you have coming up?
I'll be filming more scenes for TimTales very soon, which is one of my favourite studios to shoot for. I recently filmed for Badpuppy, UKNM and Young Bastards in Prague which was an exciting experience. The Badpuppy scene is out now and the other two are coming out in April and May. I'm also building content for my OnlyFans account which is about to launch this spring. Guys can hit me up on twitter or Instagram if they want to be in those videos!
Anything else you'd like to add?
I'm launching a gay lifestyle YouTube blog where I'll be sharing more of my experiences and learnings – come find it! Also, answering all the questions took me four hours and a bottle of Argentinian malbec. It's really been a fun and rewarding experience to do it, I am really grateful for the opportunity to open up and share some of my thoughts and experiences with you and your readers.
Thank you!
Instagram: DamianBossX
Twitter: DamianBossXXX
OnlyFans: DamianBoss
YouTube: Damian Boss