It's that time of year again! Sexcircus is back in town for its first of 3 parties this year.
---
Hi Martin, what are you up to right now?
This year's crazy already and I have some MASSIVE Sexcircus plans, starting with next month's party! That's just the beginning though because coming up in June, Sexcircus is celebrating our 5th Birthday. I'm gonna blow you away with what we have planned, including some unbelievable giveaways, shows never seen before and an exciting competition for one lucky winner to come up with the theme for the birthday party as well as being the VIP BIRTHDAY KING at the event.
SexCircus is back for another big slutty show, can you tell us all about it?
Bringing you some fresh meat this time round with a new Sexcircus virgin, as well as the hottest favourites and, of course, a few surprises…
What sexy pornstars will be joining the SexCircus?
So my two favourite boys and our Sexcircus Gods, Damien Crosse & Gabriel Phoenix will be back. I'm really excited to be be bringing back the Italian Stallion Paco too, as well as another favourite Dmitry Osten and then we have two VIRGINS to break in; the sexy as fuck Alexis Clark & equally hot Max Duran plus a couple of secret surprises.
Which DJs and brands will be joining the fun again this time round?
Of course Jamie HP & The Hoist will be back to make the unstoppable. Our threesome of DJs Lee Harris, Sam Londt, Tony Bruno, plus another SC virgin Neil Singleton will be playing in the main room and keep an eye out, as there's more to be announced.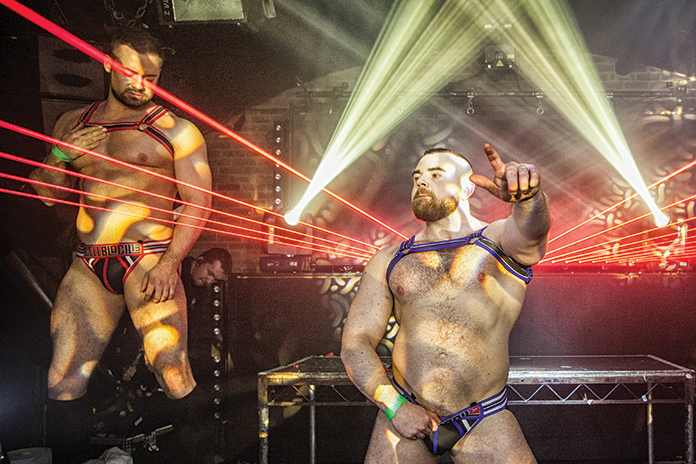 How will this SexCircus be different from the last?
This is gonna be whetting your appetite and building you up to the BIGGEST CLIMAX London has seen at our 5th Birthday in June… watch this space!
What's a dream you have for the future of SexCircus?
Well, I still can't believe it's been 5 years and over 10 parties, so that's already been a dream. But definitely some really HOT themes with crowd interaction and I really would love to do a huge outdoor orgy, that would be a lot of fun!
What circus act are you most like in bed? An acrobat or an elephant?
Haha neither, ALWAYS the ringmaster
SexCircus is on Saturday 30th March at FIRE (39 Parry St, London SW8 1RT) 11pm – 6am, followed by Beyond Woof. Earlybird tickets are on sale now at www.orangenation.seetickets.com