All of a sudden we're aware of prejudice against redheads. In 2007 a family in Newcastle claimed that it was forced to move house because of the abuse suffered by their four redheaded kids.
Last year a 15-year-old boy in Urmston, Lancs., hanged himself, possibly because, as far as school bullies are concerned, ginga is the new gay. But this ignorance is nothing new.
Because red is the rarest hair colour, and people with red hair also tend to be pale and have freckles, redheads have always been treated as aliens. In the Middle Ages women with red hair and green eyes, a common combination, were thought to be witches.
In Scotland, the "first footing" tradition decrees that, if a redhead is first through your front door after midnight on Hogmanay, he'll bring bad luck.
Probably because they were discriminated against, redheaded women developed a reputation for fiery temper. This made them desirable. Famous for their golden tresses, film stars like Rita Hayworth and Moira Shearer encouraged many women to reach for the hair dye.
But redheaded men weren't so lucky. To this day straight gingas are figures of fun. Look at Prince Harry, Mick Hucknall and Chris Evans. And how many redheaded male movie stars are there? Ewan McGregor and…er…? But recently gay men have (as always!) taken the lead and decided that ginger blokes are sexy.
This has happened not a moment too soon. Research suggests that redheads will become extinct within the next hundred years!
Redheads have always been with us. But never in any great number. The highest current estimate of the world's ginger population is 4 per cent and it could be as low as 1 per cent. Because of their pale skin, copperknobs survive mostly in cold climates.
There's a few in Norway (hence Erik the Red). But the country with the most – 16 per cent of its total population – is Scotland. It's possible that the deep-rooted English wariness of the Scots derives from fear of men who looked different, with red hair and beards. (Gay Englishmen, on the other hand, have always been rather taken with big, hairy Scotsmen, their kilts flying as they toss their cabers).
Claims have been made that several figures of antiquity – Cleopatra, King David, Boudica, Mohammed – were carrot tops. Without contemporary portraits we can't be sure. But Queen Elizabeth I was always painted with red hair. And it's impossible to imagine van Gogh without his. Coming more up to date, there's been a revival of pride among redheads.
Thus we have an actress taking the name Ginger Rogers and a drummer calling himself Ginger Baker. In the U.S. redheaded sportsmen have attempted to deflect negative jokes by changing their first names to Red. (This psychology also works for men who don't mind being called Paddy, Taffy and Jock).
In 2006 some (not very academic) German research found that redheaded women have more sex and that women who dye their hair red are signalling that they want more sex. Or something. Statistics for redheaded men don't seem to have been recorded.
But judging by gay porn (in my view porn has always been a pretty accurate barometer of what's sexually acceptable) flame-haired men are just as horny as their auburn sisters. Not only are there more of them around right now, they're often involved in the raunchiest scenes. (Take a look at aggressive fucker Tim Kruger on his Tim Tales site). Where did all these red devils spring from? Well, of course they've been in hiding.
Not so long ago a male gay redhead was regarded as socially inferior. The only celeb to tick all three boxes was Andy Bell and he's more of a strawberry blond. (Redheaded comedian Danny Kaye was as gay as a goose, but he never came out).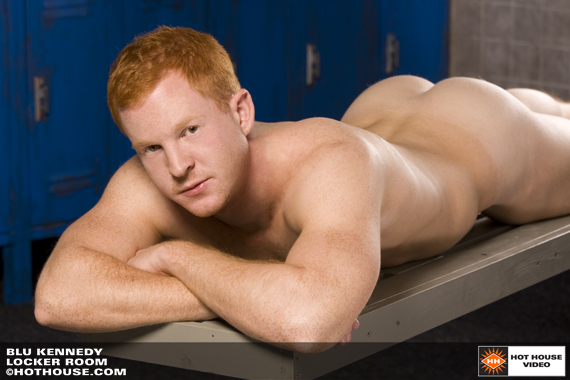 The experiences of porn star Will Clark are probably typical. He began as an actor but had no success. "No one was casting a young, redheaded male," he says. He auditioned for Falcon, but was told, "You're too white, you're too hairy, you're a redhead. We don't care for any of that stuff."
But then he got a bit part in the stylishly offbeat Night Walk (1995) and later specialised in being roughed up in leather. His last film to date is Red Star (2003) with another piece of red meat, Rusty Samuels. (Clark now works as an AIDS fundraiser). Another redhead pioneer was Erich Lange, first seen in 1986 and still in the business today although mostly on the other side of the camera.
The redheads still pumping it out at the moment are often paired with contrasting types. Ben at www.newyorkstraightmen.com specialises in going down on dark-haired men. Several redheads like to work with black partners. One of the first scenes that Blu Kennedy filmed was with Jay Black in Dill Media's Bedrock (2004).
In April 2008, QXMEN called Steven Ponce's scene with Diesel Washington in Titan Media's Telescope (2008) "one of the most intense fuck scenes you've ever seen." In February this year, when we reviewed the Dark Alley release, Gaytanamo (2007), we noted that "Tim Rusty, with his milk-white skin and vivid ginger pubes is a hot contrast to fit, black Tony Diamond."
The red/black thing in gay porn has been addressed on Kieran and Joey's American site Gingerheadman, the best of its type, which promotes "redheaded males as sexy and desirable."
Earlier this year a poster asked, "Do black men especially fancy males with red hair? All the nicest compliments I've ever gotten on my copper locks have come from black guys."  One response was, "I am a black man and I date men of every ethnicity. If I date a white man, I typically have a preference for redheads.
In trying to determine why, I wonder if the notion of 'opposites attract' applies?  It may be social, cultural and historical differences that attract white men and black men, but in terms of a preference for redheads, it seems purely visual for me. The pale skin and the hair colour are clear attractors.
Other features, which add to the striking appeal, are blue or green eyes." In other words, we're all in agreement that the unique redhead look, complete with pale skin, can be a big turn-on. Redheads are a joke? Not to us. In order to dispel any lingering doubts, British photographer Lewis Gill's blog, The Ginger Man, aims to "displace the myth that gingers are not attractive."
Lewis snaps redheads he likes and invites your comments. Here's one: "I'm so jealous I can't stand it. So handsome, and look at all those freckles. Yummmm!" Lewis wants more pictures of redheads so send yours in!
Are redheads really a dying breed? The mainstream redhead site, Red and Proud (they used to give an award, Redhead of the Year, but haven't recently), thinks it's too early to predict extinction. "Don't panic!" they advise. Certainly we're more ginger aware than ever before.
Gingers! The Musical ("a hilarious portrayal of the trials and tribulations this genetic minority face") played on the Edinburgh Festival Fringe this year. Would that have happened ten years ago? I doubt it.
---
www.gingerheadman.com
www.the-ginger-man.blogspot.com
www.timtales.com
www.redandproud.com