The sweat is dripping. The tension is rising. The balls are in your hands. What's your move? Lay it on the line and go deep with TitanMen exclusives Dario Beck, Aymeric DeVille and Marco Wilson, a talented trio that leads a pack of all-star athletes who show you how to shoot and score… Clothes off, game on!
When an outdoor game of table tennis loses its ball, toned Dario Beck and tanned stallion Marco Wilson quickly find another way to play. Marco moves in for a kiss before licking Dario's chest, then slides down to the thick and juicy dick bursting out of Dario's jeans.
Marco deep throats his bud, who returns the favour and soon the two guys cum. On his back, Dario gets his arse eaten and fucked by Marco, who then fucks him doggy style.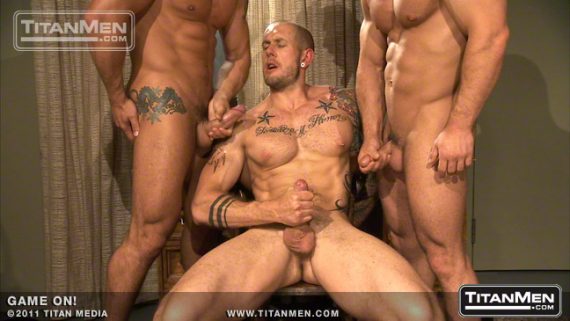 Next, beer-guzzling strip poker pals Aymeric DeVille and Lawson Kane eye each other's tattooed bodies. A cheating hand has Aymeric winning the round, sending muscular Lawson's briefs to the floor as his thick beast of a dick bounces to the ceiling.
The two kiss before Aymeric falls to his knees, wrapping his lips around the banana-arched cock. Lawson gets face-fucked by his uncut bud, the two coming before Aymeric offers his smooth jock hole – which Lawson laps up before plowing.
Aymeric shows off his cock as he continues to get fucked on his back, Lawson placing his hand on the bottom's huge pec. Aymeric then gets it over the table, aerial shots looking down on the sweaty action as Lawson's balls slam against the bottom's arse.
The top fires a load over and on Aymeric's chest, the bottom's tight abs glistening in the light as he shoots his load.
In the final scene, Harley Everett is in charge of dark-haired hotties Jimmy Durano and Marc Dylan, calling the shots over a game of strip darts. Harley's superhero pecs and Marc's incredible abs are soon on display.
"I want your ass over that desk," demands Harley, worshipping the hunky bottom's muscle butt as voyeur Jimmy shows off his boner. Of course, super bottom Marc gets it in his beautiful arse from both guys.
• Available from www.titanmen.com