It's the next horny-as-fuck instalment of the day-to-day goings on at Trojan Rock Toolmen company… Do these hairy muscle hunks ever do any work!
Gio Cruz (AKA Driller) has the job of helping to clear an office, and Yohan, the cute bearded office manager, is telling him what to do when Driller spies a bag of swimwear.
Cheekily, he asks if he can try them on and it's not long before the beefy muscle studs are trying on the trunks, and Driller's sporting a hard on in his trunks. Gio pulls Yohan's trunks off and hungrily eats his arse out before living up to his nick-name and 'drilling' Yohan to a hot spunky climax!
Ben Brown (AKA Spanner) is in for a rough ride as bodybuilder Randy Jones gets naked with him. Hairy young cub Spanner can't get enough of sucking super muscled Randy's enormous cock!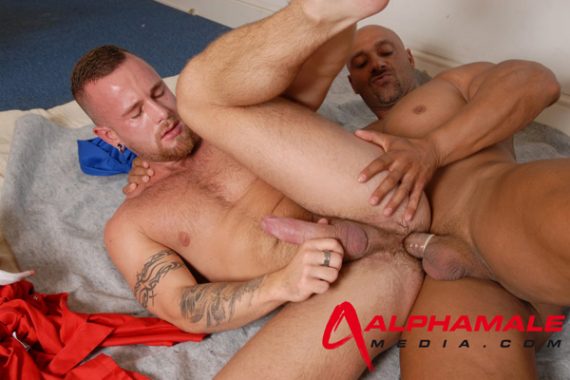 That is until Randy flips him over and fucks the hell out of him.
Superstar Carlo Cox takes his first dick – and it's attached to huge, hairy black dude Roman Wright! Trojan has set up secret cameras in an empty office to see what his 'toolmen' actually get up to when they're supposed to be working.
He tells super hairy muscle guy Carlo Cox (AKA Pliers) to stay there for a couple of hours for a delivery! Immediately Pliers and newcomer, the massive, hairy hung muscle man, Roman Wright decider how to fill the time.
And the two super hairy, super muscled and super hung studs soon get naked, before sucking, rimming deep and flip flop fucking each other's hairy holes. Trojan's voyeuristic tales continue when tattooed muscle hunk Harley Everett and hairy muscle man Justin King are left to work alone. New to Trojan's Toolmen company, they have no idea that they're being watched.
Tattooed muscle-mountain Harley takes hairy Justin King in more ways than one. Choking on Harley's massive cock, Justin then takes the full 8 inches from behind. Noisily, these guys show their pleasure as Harley fucks Justin from many angles.
Near exhaustion from the massive amount of fucking and arse play, they sit tightly opposite each other and show each other just how much cum they can shoot… Explosive!
• Available to buy at www.eurocreme.com or watch high quality streaming at www.eurocreme.tv