The fourth scorching hot instalment of Chi Chi LaRue's chart topping series sees superstar Matthew Rush perform in his first movie for Channel 1 Releasing.
Studio exclusives Johnny Hazzard and Mitchell Rock, together with newcomers Drew Cutler and Landon Conrad, are among the sexy heroes in this fire station fuck fest.

Alessio and Dayton are sharing a beer and a smoke and start getting down to business on a mattress on the floor. These two are real men and the foreplay is rough and ready as they tear each other's clothes off and paw each other's bodies. Alessio is tattooed and hairy while Dayton's hairless and smooth and the guys make for a perfect pairing.
Johnny Hazzard walks into the room, and rubbing his packet, watches the guys making out. It's not long before Johnny's got his cock out and down Alessio's throat, then he's on all fours with Alessio ramming his butt with Dayton's cock fucking his mouth.
They flip and Alessio gets his ass drilled before both guys shoot their loads over an appreciative Dayton.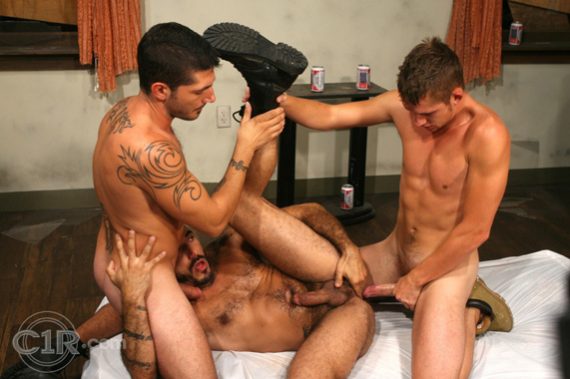 Damon and Luke are in bed next and Damon gets his smooth, hairless lilly white bubble butt filled by Luke before we head to a shower scene with Rod and Dayton being watched by Johnny.
After soaping themselves down, Dayton tongues Rod's perfect bubble butt before fucking him up against the shower wall.
Back in the fire station, Johnny's with muscle mountains Matthew and Mitchell and the guys are washing down a fire truck. Before we know it the three are joined by Drew and Landon for an outstanding fuck and suck session.
Matthew is in seventh heaven as he gets his muscled butt rimmed by Mitchell while Johnny gets his beautiful ass serviced by sexy new comer Drew, watched by another equally sexy new comer Landon.
The scene ends with Johnny bouncing up and down on Matthew's hard cock before Matthew stands up and gives it good and hard to Mitchell. A blinder of a movie from Chi Chi LaRue and one that will make you cum and cum again.
---
Available from Prowler, Expectations, White Tiger and all good DVD stockists
---