Every day, Francesco D'Macho's addiction puts him in harm's way. His addiction isn't to drugs, alcohol or even sex. He's a voyeur and he stalks hot men, with a camera in one hand and his cock in the other. 
Muscle studs Damien Crosse and Alex Marte, the hunk on this month's cover, spend an entire afternoon fucking each other on a rooftop in downtown Madrid, out in the open with the whole city watching – including Francesco D'Macho, who gets a close-up view with a pair of binoculars!
Damien, one of the hottest porn stars in the business, never looked better, and Alex Marte could very well be the hottest bodybuilder in porn today! Rumour has it the Spanish police raided the set during filming, responding to complaints from the neighbours!
But rather than stop the shoot, we're told two straight police officers just asked Damien and Alex to hurry up with their cum shots, which turned on Damien and Alex so much they blew the biggest loads of their careers!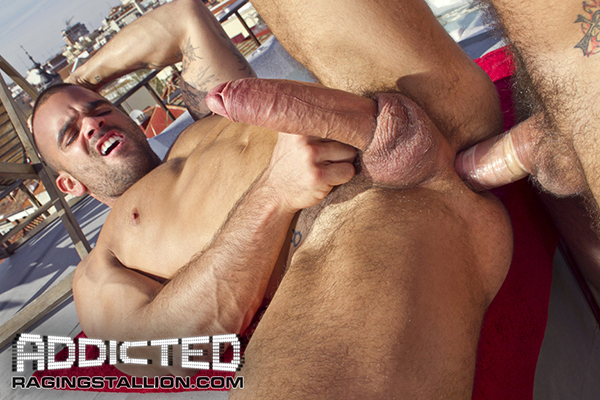 Determined to watch Sergi Serrano and Scott Carter fuck, Francesco hides video cameras in their apartment. He's rewarded in scene two when Sergi and Scott get home from their workout and combine sex with their shower!
Francesco needs his next fix and wants to watch Massimo Blade and Goran fuck. He hides in their bedroom and doesn't have to wait long before Massimo and Goran enter. Within seconds Goran is fucking Massimo and they both shoot before falling asleep in each other's arms, allowing Francesco to make his escape.
Tomy Hawk and this month's hot, hung centrefold, Lucio Saints, are exhibitionists and always leave the curtains open when they fuck. Lucio and Tomy have matching ripped torsos, 5 o'clock shadows, firm butts and pumped pecs, and they share the roles of top and bottom too.
Turned on by the guys, Francesco moves a bit too close to the window and is spotted by Lucio. But instead of being angry with their peeping Tom, in what must be a voyeur's ultimate fantasy, Lucio and Tomy pull Francesco in and face-fuck him until they cum in his mouth and all over his hairy chest!
• Available in all good adult DVD shops and online at www.SimplyGayDVD.com.