TROJAN Rock decides that if the only thing his men can do well is fuck, then that's what they will do! Fortunately, his contacts allow him to quickly spread the word that Trojan's Toolbox can now provide a man for any kind of service… 
Scene one and Americans Geoffrey Paine and Joe Gunn have just arrived in London. They're hungry and book a place for two in a well-known beef joint, where a fine piece of Polish meat is on the menu.
The piece of beef in question is Yohann Banks, and he's waiting for the guys on his bed on all fours. Yohann's does his best to work the two American tops' dicks in equal measures, but they want to fuck his arse and spitroast him, taking turns on both ends.
Joe cums first and Geoffrey's not far behind with an even bigger load that leaves Yohann's chest drenched in cum. Tiko books a foot massage and Dolan Wolf is the perfect choice as he's got a bit of a foot fetish.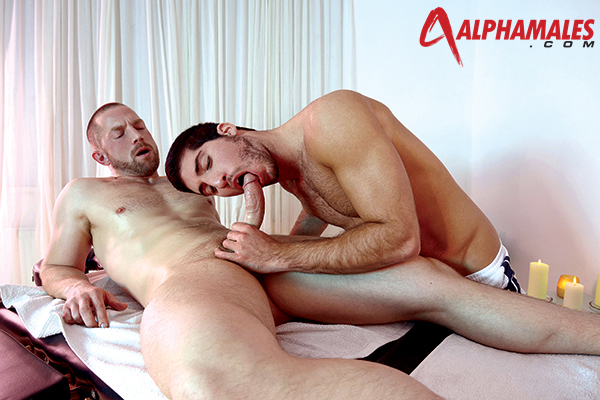 As Dolan gets to work on his feet, horny Tiko knows exactly where his foot massage will lead… After all, he did book it through Trojan! As Dolan runs his fingers and tongue up and down Tiko's feet the big guy's hand slips down his trousers.
This doesn't go unnoticed by Dolan, who replaces Tiko's hand with his mouth and sucks his fat piece of meat. Soon Tiko's fucking Dolan's hairy arse hard and fast, in what must be the most unconventional foot massage we've ever seen! Geoffrey Paine stars in a hot solo scene before sexy Antonio Garcia requires the services of one of Trojan's men.
He needs help with his tax return and Trojan sends him horny Marco Sessions who's a trained accountant. When Marco arrives, Antonio is watching porn on his laptop. Marco is instantly turned on and gets down on his knees to service Antonio's thick meat before getting fucked deep and hard over the desk. Adam Herst needs a good massage and books the services of Leo Domenico.
Leo arrives and gives the beefy American's broad back and shoulders and beefy legs and arse an oily rub down. Adam has a meaty arse and Leo can't help himself exploring between the two mounds of flesh with his oily fingers.
But his cock soon replaces them and he fucks Adam in various positions on the massage table before both guys shoot their loads.
• Available to buy at www.eurocremestore.com or watch high quality streaming at www.eurocreme.com.