Accepting lifts from strangers can be a dangerous game – especially if the strangers happen to be a couple of Bait Boys from Boys On The Prowl.
They're horny young, innocent looking scallies who are on the hunt for young guys to suck, fuck and spit roast – or what's known in the business as Road Rammed!
In Boys On The Prowl: Road Rammed two fit-as-fuck lads are driven around in the back of a people carrier, with a mate doing the driving and another operating a handheld camera. As soon as they spot a guy on the street (a willing victim) that they like the look of, they pull over and offer him money for an hour of fun.
But what they don't mention is that while it might be fun for them, their victim isn't going to have much fun when he's stripped naked and subjected to a sickening joyride of sucking, rimming and fucking! Boys On The Prowl: Road Rammed shows what happens to four such lads who one by one get picked up at the side of the road by the Bait Boys and get taken for a ride.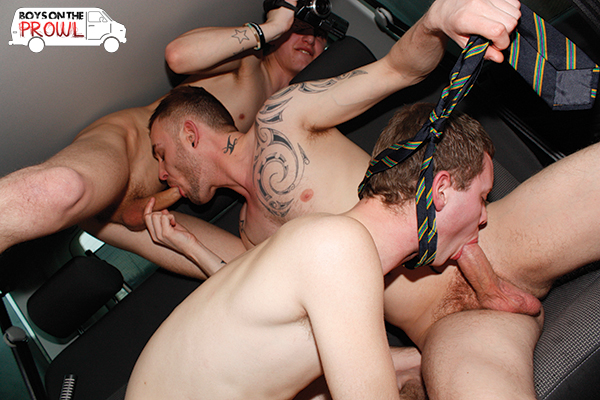 Each set of Bait Boys are cheeky, charming and full of spunk and they manage to pick up some innocent, gullible and very sexy guys off the streets and talk them into getting rammed senseless in the back of their people carrier.
Spit roasted, face fucked, arse battered – these sex addicted lads see nothing wrong in tempting a young lad in his school uniform into their bait-bus for nothing more then the price of a can of booze and a smoke. Buff Jake Kelvin hops in to raise extra cash for his holiday, while Jacob Daniels wants some dosh for some new clothes.
Finally, Kai Alexander needs a ride to Leeds but our Bait Boys fuck him and then fuck him over, leaving him on the side of the road bewildered.
Those Bait Boys are little fuckers and we really felt sorry for the lads they fucked over… But our cocks were rock hard right through the film and we blew our load a few times too!
• Available from Prowler, Expectations, White Tiger and all good DVD stockists and at www.ProwlerDVD.com.