In Raging Stallion's Militia, the sexual mercenaries fuck their way through any terrain and every situation. Director Bruno Bond's band of men pass the time in their secret camp by fucking with their comrades in arms. 
Jessy Ares and Angelo Marconi are up first in a wild coupling that proves that the men who fight together fuck together! When Jessy pulls Angelo's fatigues to the ground a hard cock springs out to greet him, and when Angelo does the same he gets straight on to his knees and swallows Jessy's hard cock, cupping his balls hard in his fist.
Jessy then drills Angelo's hole with two fingers and Angelo adds two of his own before Jessy slides his cock up his buddy's arse, egged on by Angelo's saying, "fuck that ass." Landon Conrad and Alex Marte tear into each other next and with the difference in the guy's size and weight, you'd be forgiven to assume that Alex would be the top.
So it's a surprise when Landon buries his face between Alex's cheeks, quickly followed by his cock, and Alex is in pig heaven, grunting and reverse-thrusting to ensure maximum depth. Then, it happens all over again, only with the positions reversed. Landon knows exactly how big Alex's cock is because he carries the imprint in his throat… Now he wants that same imprint in his arse! Heath Jordan has Shawn Wolfe in a bear hug, and Shawn is offering no resistance.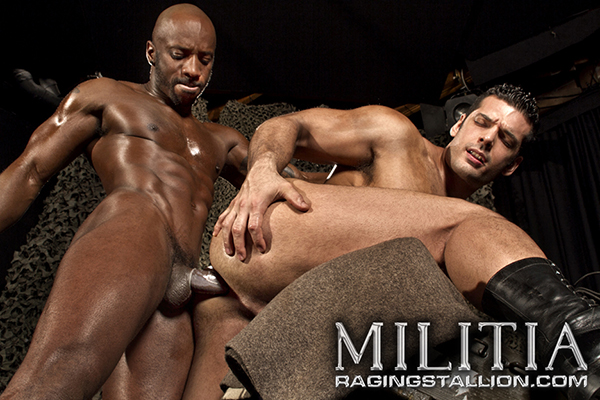 In fact, he tears the shirt off Heath's furry torso, and reaches around to grab a muscled bun in each hand. The waistband and straps of Heath's black jockstrap serves as a grip and a controlling rein when Shawn starts to fuck him doggy style, before a seamless switch to the missionary position showcases Heath's hard cock.
Race Cooper and Marcus Ruhl are up next and although these guys are all fired up and need to shoot, it's not their guns that need unloading. Race's cock is poised to explode but he holds back in order to suck Marcus. His cock is dripping pre-cum onto his thigh when they swap positions, giving Marcus a chance to slurp Race's rock hard cock.
He punches Race's abs with his fist as he sucks, before getting onto his back for his comrade in arms to put him through his paces, pounding him until they both shoot their loads.
• Available in all good adult DVD shops and online at www.SimplyGayDVD.com.