There's over two hours of glorious HD daddy – boy action in Dominant Daddies. Watch as Jean Franko uses Yohann Banks like the slutty, fuck whore he is, and Andrea De Luca gets a rough ride from Ted Colunga and his unfeasibly large penis! Then there's young cub Jock who puts leather daddy Oliver in his place, and the stunning Logan Mcree gets his cute tattooed buns plundered by his older lover, the gorgeous Vinnie D'Angelo. 
But Butch Dixon's latest fuck fest isn't all rough and hairy action. Believe it or not there's romance in it too, like the scene with Tim Kelly and Ben Statham.
This is what director, JONNO, said. "This has got to be, hands down, one of my all-time favourite videos! In fact, it's one of my favourite pairings of men too! When I think of daddy-boy sex, this scene is what's happening in my head.
Tim Kelly is a hairy daddy with a solid body covered in hair. Ben is a really hot guy. He's much smaller than Tim and fits perfectly in the nook of Kelly's arm. While Ben looks like a boy snuggled up to Kelly, he's all man! His body is impeccably built, with strong shoulders and arms, and an awesome six-pack of abs.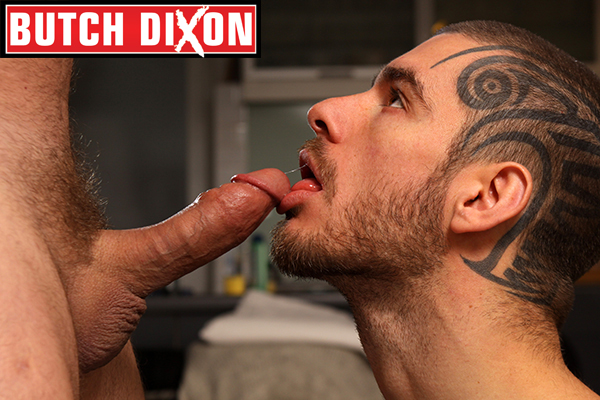 His chest is sparsely furry and he's got a fantastically long, uncut cock. The scene opens with that uncut dick of his rock hard as Tim Kelly plants passionate kisses on Ben's soft lips. The two men are making love on a big fluffy bed, and the white sheets really show off their bodies beautifully.
One of my absolute favourite moments of this video has to be when Ben is curled up in Tim's arms. Ben's back is to the camera, and Tim reaches around and fucks Ben's arse with a couple of his huge, fat fingers. It's such a turn-on. Of course, Tim fucks Ben's arse for real, and Tim's arse pounding gets Ben off in a big way.
With Daddy's hard cock pounding his hole, Ben squirts a phenomenal load all over his chest and belly. Tim is the perfect gentleman and waits for Ben's spasms to subside before coating his boy in a big load of daddy cum! Wow, you guys are going to love this one!
• Available from Prowler, Expectations, White Tiger and all good DVD stockists, and at www.ProwlerDVD.com.