Don't let the title put you off. The sex in this movie is every bit as horny as any of Lucas Entertainment's usual fuck fests. But instead of hardcore, no holes barred, animalistic fucking (see Harder, Faster, Rougher in this month's New Cummers), Surrender To Love shows what happens when passion takes over! The jury's out as to whether these couples really are in love, but one thing's for sure, they're definitely loving having sex with each other!
It was love at first sight when Kayden Gray and Woody Fox met on the streets of London and they waste no time renting a hotel room. Their first night together was spent simply sleeping side-by-side in their underwear, but by the morning their primeval sexual urges take over and, taking the dominant role, Woody ensures that Kayden uses his mouth, hands, and arse to make him feel like he's in heaven!
Michael Lucas and Demian Holt are our next star-crossed lovers and Demian is keen to use everything in his powers to pleasure Michael. Expert Russian top Michael makes love to the newcomer in several positions giving him a thorough lesson in how to get fucked, and by the end Demian's cock explodes with an incredible cum shot!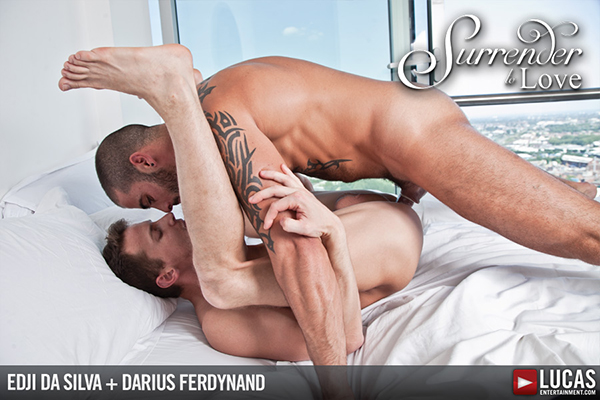 Darius Ferdynand has never loved anyone the way that he loves Edji Da Silva and wants to surprise him with breakfast in bed. But don't worry, there's not a gut-busting full English to be seen. Instead Darius answers Edji's desire to bottom and fucks – sorry, makes love to – Edji, the first time the usually top performer has been fucked in a Lucas Entertainment film!
Next up, Adriano Carrasco and Tony Rivera prove that the best kind of love is Latin love. Tony prefers to be bottom, which makes him the perfect partner for Adriano who loves to fuck and, after some passionate cock sucking, Tony lies on his back and lets Adriano go to work on his arse.
What are the odds that two of Lucas Entertainment's hottest exclusives, Israeli, Jonathan Agassi, and German, Hans Berlin, would fall in love with each other? Well, like we said in the introduction, whether they're truly in love with each other or not, one thing's for sure, Jonathan and Hans definitely loved having sex with each other!
• Watch now at www.lucasentertainment.com or buy the download or DVD at www.LucasStore.com.