From Raging Stallion Studios comes Sexo en Barcelona – Part 2 and we return to Spain's 'hottest' city with director Tony Dimarco and seven muscular studs from two continents.
The movie opens with two stunning specimens Aybars and Donato Reyes. Aybars gets straight down to business sucking Donato's cock before they swap positions and Donato returns the favour. There's no mistaking Aybars intention when he slides his fat cock up and down the crevice of Donato's smooth, tanned arse, and soon Aybars is pounding away relentlessly.
Scene two, and lovers Marc Dylan and Damien Crosse head straight to the bedroom. True to form, Damien's horny as hell and before you know it he's got Marc's cock in his mouth! Marc's quick to trade places, grabbing Damien's hairy balls while his mouth gets to work on his uncut cock.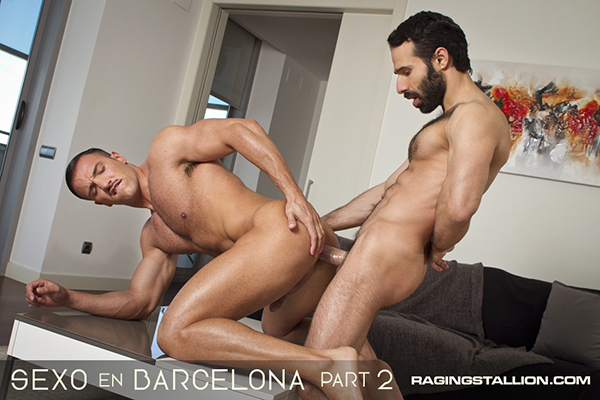 They position themselves so that Damien's eating out Marc's arse while Marc sucks his cock! Axel Brooks is horny like a dog and he's lurking in a dark corner of a sex club. He has his eye on the delicious Adrian Toledo and as he walks by, Axel grabs him and pulls him into the shadows, ripping off his t-shirt and biting at his neck like a vampire.
Axel forces Adrian down on his knees so he can face fuck him and then dragged him back up to his feet, turns him around to face the wall and then tears down his jeans, biting his arse cheeks and plunging his tongue into Adrian's smooth hole. Then begins Axel's relentless pounding before he shoots his load in Adrian's face spreads it around with his cock. It's late, and there aren't many guys left at the sex club but, in the final secen hot Bulgarian hunk Goran needs to fuck some arse.
In the shadows he makes out Marc Dylan leaning against the wall and he approaches, checks Marc out very briefly before dropping to his knees to suck his cock. Marc wants to suck cock too, but Goran wants to eat his meaty arse more and so, never one to argue, Marc holds his cheeks apart… His hole is just the appetizer though and soon Goran is delivering a power fuck.
• Available from Prowler, Expectations, White Tiger and all good DVD stockists, and at www.ProwlerDVD.com.