Leave behind your everyday troubles and escape with Lucas Entertainment's Lovers in Paradise, for some of the most exotic and passionate sex between men ever witnessed. 
Sometimes men love each other with a soft and gentle touch, and other times it's rough and heated. Paddy O'Brian doesn't know anything other than rough, so when he hikes to a waterfall with Diego Lauzen you know the action is going to be anything but soft and gentle. Rod Daily and Jesse Santana are up next and after spotting each other at a resort in Costa Rica the guys become firm friends.
One day they hike deep into the rainforest and the one thing they have on their mind is making love. They find a lagoon in the clearing where they strip off their Speedos, go skinny-dipping, and then make out. Once the floodgates are opened there's no holding back and Rod and Jesse suck cock, eat arse and fuck each other until they both shoot.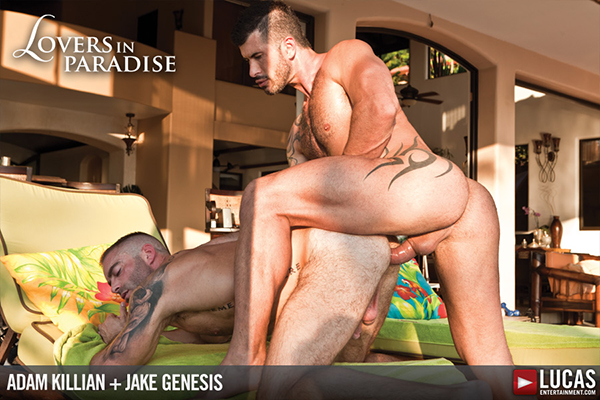 Adam Killian has had his eye on Jake Genesis for a while now, and he's finally figured out the perfect opportunity to seduce him – by offering him an all-expense paid vacation at a Costa Rican villa. Adam doesn't waste any time letting Jake know what he wants and as they watch the sunset on their first evening together, Adam moves in for the kill. Jake puts up no resistance and offers his arse to Adam, who makes hot passionate loves to it.
There's love and there's lust, and it's a line that Wagner Vittoria and Diego Lauzen blur when it comes to their sex life. That's why, when Wagner caught sight of Tiziano he knew he had to have him… with the permission of Diego, of course. Diego gave his okay, so Wager practiced his topping skills on Tiziano after they wandered into the Costa Rican rainforest together.
Vito Gallo and D.O. escape from their everyday lives on their first vacation together, and travel to Costa Rica. D.O. is the first to slide his dick inside of Vito and, while it's a lot to take, Vito soon gets his stride and is able to enjoy his lover's thrusts. After D.O.'s had his fun, it's his turn to take some dick, and does he have a lot to handle with what Vito is packing in his pants. But they're in love, so it's worth the effort!
• Watch now at www.lucasentertainment.com or buy the download or DVD at www.LucasStore.com.