ASHLEY RYDER has made the move from starring in front of the camera to working behind it and resurrected the Bulldog XXX brand. And take it from us, Snatched, a fantasy abduction movie starring super hot, aggressive tops and sleazy, butt hungry bottoms, is every bit as horny as the original Bulldog XXX DVDs.
JP Dubois is being watched by a hoodie and, even though he's wearing a creepy clown mask, he looks fit as fuck! He's being followed around the streets of South London and as he steps into a lift, in barges the guy who's been pursuing him.
In the next scene, JP's hogtied on a dirty mattress with only his underwear left on! The sexy guy in the clown mask, who we discover is Michel Rudin, is behind him and ripping a hole in the back of his pants. Soon JP is being forced to suck Michel's meaty cock before he turns his attention to his arse, first fucking him and then stretching his hole even wider with a blue Crackstuffers monster dildo.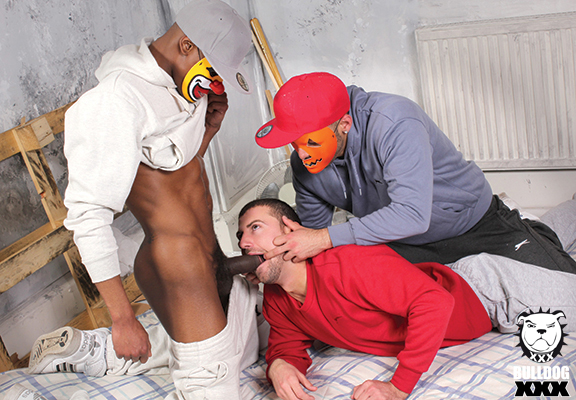 In scene two, Marco Sessions is pinned to a mattress by two masked guys, Tyson Tyler and Riley Coxx, and they're forcing him to suck their cocks. Not content with his mouth, Tyson and Riley rip down Marco's tracksuit bottoms and work open his beautiful hairless hole with their lubed up fingers before wrecking him with their cocks.
Young and impressively hung Luke Desmond is up next in a horny as fuck solo scene. Surprisingly though, it's not his amazing cock that takes centre stage, it's his delicious boy butt which he works hard with a monster Crackstuffers dildo… Who knew that a solo scene (which are often so dull) could be so fucking horny! We're back to the three-way with Marco, Tyson and Riley, and now that his hole has been opened the two tops stretch it too the max with another Crackstuffers dildos before they hold him down and milk his cock.
In the final scene we're treated to another hot as hell three-way, this time featuring Eurocreme Exclusive Billy Rubens, Luke Desmond – putting that cock of his to good use as a top – and sexy Koltes as the eager bottom. Face down on the mattress, Koltes' are hands are tied behind his back and he's subjected to some hard DP (double penetration) from Billy and Luke before his hole is stretched to the max by another blue monster from Crackstuffers!
• Available to buy at www.eurocremestore.com or watch high quality streaming at www.eurocreme.com.