It's another chance to watch Trojan's beefy workmen in action and who knew these beefy men were so good with their hands? Not only are these guys good at manual work but they can also give deep sensual massages too… Of course, being Trojan's boys, they're always happy to give extras too!
We're straight into the action as ripped muscle masseur Valentin Alsina wastes no time and heads straight to Driller's bubble butt, barely paying any attention to his client's overworked muscles.
Easing Driller's hole wide with two fingers, Valentin spits on it and licks it before pulling Driller's cock out from beneath him and worships the massive tool. Then, hungry for cock, Valentin gently eases Driller's huge cock inside himself and rides it until the muscle men cover themselves in spunk.
Sexy Frenchman, Issac Jones is giving hairy muscle cub Spanner (Ben Brown) a massage. Issac starts rubbing and easing the tension from Spanner's broad back, but is distracted by the sight of Spanner's wriggling hairy hole.  Fingering it while Spanner moans gently, Spanner removes Issac's trousers and sucks long and hard on his massive uncut cock.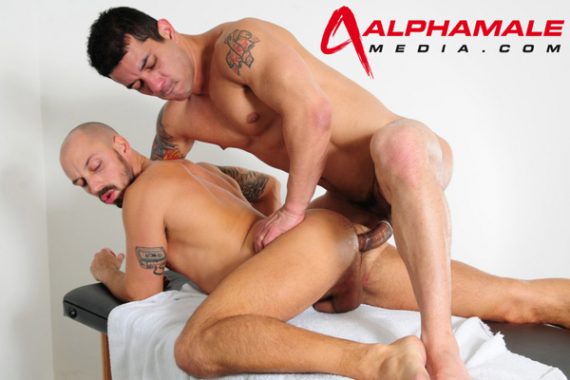 Both men take it in turns to eat each other's hairy holes and huge cocks, before Isaac gives Spanner the fuck of his life! Starting work on Hammer's (Bruno Knight) huge muscled hairy legs, Mark the masseur's cock starts to get hard. Moving round to rub Hammer's back, he pushes his meaty tool against Hammer's shaved head, and feeling it against him, Hammer pulls it out from Mark's work overalls.
Soon the guys are eating each other's cocks and hairy arses before Hammer slams his hot cock up Mark's puckered hole. Wrench (Harley Everett) failed to impress his boss Trojan Rock with his tiny profit margin so, unlike the rest of the workers, he has to massage the masseur, hairy stud Dolan Wolfe!
Wrench seems to be getting off on Dolan's totally hairy bubble butt, and soon these two rough hunks are into each other in a big way. Wrench slams his huge uncut cock into Dolan's waiting mouth before moving onto Dolan's hairy arse to eat him out with gusto! Dolan shoots his cum all over his belly then deep throats Harley to a mouth watering climax!
• Available to buy at www.eurocreme.com or watch high quality streaming at www.Eurocreme.tv