When Landon Conrad, Dean Monroe and three of their sex-mad buddies spend a long weekend in San Francisco with cameras in hand, you know that the results are going to be off the Richter scale!
And when Dean and Landon go through the photos and videos their friends have been taking over the weekend, they reveal their hot escapades. By the final scene, they're so turned on by what they've seen that they decide to make their own video that, as you'll see, rivals even their buddies' sexploits!
While his buddies are out sight-seeing Jimmy Durano explores the city to see what he can find on his own. He meets local man Dylan Roberts who agrees to show him a good time and the two guys head home.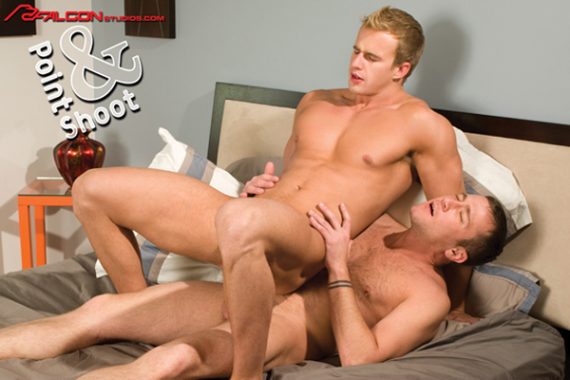 No sooner as they get inside, Dylan begins to feast on Jimmy's meaty shlong and, wanting to taste some of the local cuisine, Jimmy eats out Dylan's arse before he fucks him, which starts nice and easy, then gradually builds up to a frenetic pounding. Jimmy has quite an adventure with Marc Dylan too in the confines of their own bathroom.
The sight of Marc's beautifully muscled body dripping wet and just oozing sex proved such a turn-on that Jimmy couldn't help but point the camera and shoot his buddy in the shower.
The two soon take turns guzzling down each other's cocks, capturing the action on camera until they finish by showering each other with blasts of their spunk. The two guys also managed to squeeze in an intense cock-sucking, frenzied arse-rimming and relentless butt-fucking three-way with Alexander Garrett too!
And Trevor Knight's caught on camera with local hottie Cameron Foster, who offers his butt to super-hung Trevor who greedily rims then fucks his boy's hole.
And after the voyeuristic tour of their friends' weekend sexploits, Landon and Dean are eager to make their own video to prove they're just as capable and horny as their fellow visitors.
• Available from Prowler, Expectations, White Tiger and all good DVD stockists.