Those gorgeous twinks are back in another hot-as-hell DreamBoy production. This time around we're introduced to stunning blond Aussie Joe Bondi as he gives us a tour of his deepest darkest fantasises.  
Stripping off in the blinding sunshine, milky white Damion shows blond beauty Joe that you don't have to be tanned to be sexy. The contrast between Joe's dark tanned body and Damion's milky white skin is outstanding and watching Joe, with his legs spread wide, getting his first taste of British cock will make you shoot your load.
Exploring the English countryside, Joe Bondi comes across dark haired, pale skinned Luke taking a break from his campsite, leaning against a tree and playing with his growing bulge. Joe watches from behind some bushes, playing with his cock as Luke peals off his boxers. And soon he's next to Luke, bent over and sucking on his impressive cock before taking the full length up his tight Aussie hole.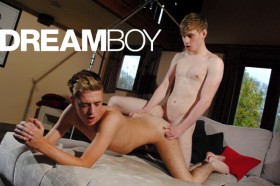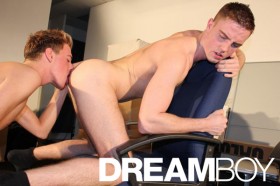 Next we meet fresh faced office lad Reece Ryder and removal boy JP. Before we know it, JP's big thick dick is fucking Reece's mouth, and worshipping that dick as if it's the first he's ever sucked, we're given a slow close-up of this indulgent oral workout. Turning JP over and getting deep into his smooth hole, Reece spits and licks JP's pink hole before lubing up and then slowly easing himself in.
Gorgeous twink Reece is back in the next scene and on top form as he and buff young Freddie have a night in front of the telly. Flicking on whatever's in the DVD player, a hot three-way is in full swing, much to the delight and embarrassment of these horny young fuckers!
Slowly getting more and more turned on, hands start roaming and soon Reece is working his magic and Freddie's fucking him right there on the sofa! In the final scene, blond Aussie twink Joe has one more treat in store for us – one of the hottest solos we've seen for long time. Watching him finger his tight hole and wanking his cock until he's spurting his boy juice over his tanned torso is pure porn gold!
• Available to buy at www.eurocreme.com or watch high quality streaming at www.Eurocreme.tv