The latest DVD from Bulldog XXX has pushed the BBFC to the brink of their own regulations, operating the four finger rule, ensuring the thumb is never inserted.
Hot boyfriends Jace Tyler and Jake Bolton are up first and, although it's the weekend, sports mad Jake heads out for an early morning run leaving Jace sleeping in bed. However, when he returns Jace is sat up in bed and, unable to resist his sweaty hunk of a boyfriend, Jace strips him out of his sweaty sports gear, gets up on all fours and presents Jake with his hole.
Now, no normal guy could resist a hole like Jace's and it's not long before Jake is fucking his boyfriend's arse deep and hard with his fat cock. As Jace's hole begins to really relax Jake puts on a glove and opens it up even wider with his fingers.
The stretching sensation proves too much for Jace to handle and, unable to hold back, he shoots his load all over Jake's hairy chest! In scene two best friends Jace and Koltes share their first kiss. This leads to them fucking each other until their holes are loose enough to take more and they slip on gloves and decide to see how much they can get in their now sloppy boy holes.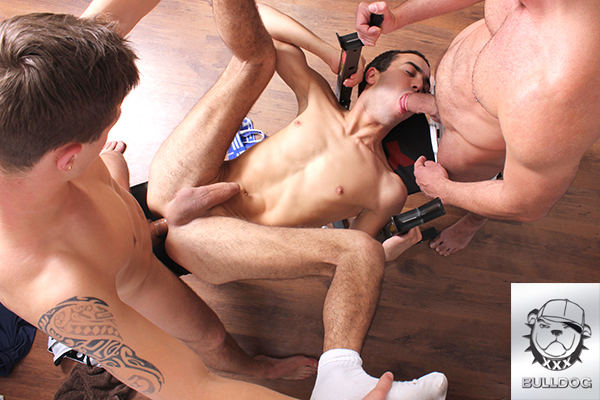 Scene three's a solo starring manly hunk Jake and three dildos, and then Latvian hottie Billy Rubens rocks up in the next scene with Bruno Fox. The sexy pair are the head jocks on the college team and while they take a shower Fostter Rivera sneaks into the changing room intent on getting his hands on their dirty kit.
When Bruno and Billy return and find Fostter messing with their stuff he's pushed to his knees and the two star play sword fight with their cocks in his mouth. The pre cum flows and when they flip him onto the weights bench they take it in turns to fuck his hole making what was just a fantasy a horny reality for Fostter.
Seeing the size of the toy Fostter's been playing with they think it is only fair to get his hole well and truly worked over. Bruno pulls a glove out of his kit bag and encourages Billy to follow suit. When both players are gloved they finger his hole to the max what happens next ends in torrents of cum. But not before Jace comes into the locker room to get his bag finding two of the star players four finger deep in Fostter's hole he joins them for a team tag session.
• Available to buy at www.eurocremestore.com or watch high quality streaming at www.bulldogpit.com