In what must be one of our fantasy fuckin' three-ways of 2011, sexy-as-fuck Brent Everett is the tasty filling in a fuck sandwich between two hotter than hell identical twins Luca & Liam Rosso! Get ready and have those Kleenex to hand as you're gonna need the whole box!
The movie starts with Brent in the locker room, looking hot and feeling horny as always and, even though he's totally turned on by sexy blond Cameron Marshall and hot Latino Lucas Vitello, who are making out in front of him, he has a radio interview that day and so can't be late. "Why is it, when you can't do something, something always presents itself to you?" he says to himself. But he has to leave the hotties to get down to action and Cameron getting fucked by his hot Latino pal.
Next up Jimmy Durano and über bottom Cavin Knight are in the bathroom and boy, is hot top Jimmy horny! He flops out his huge cock and Cavin gets onto his knees, has his beautiful, tight hairless hole rimmed and then gets fucked hard and deep by Jimmy's impressive fat cock.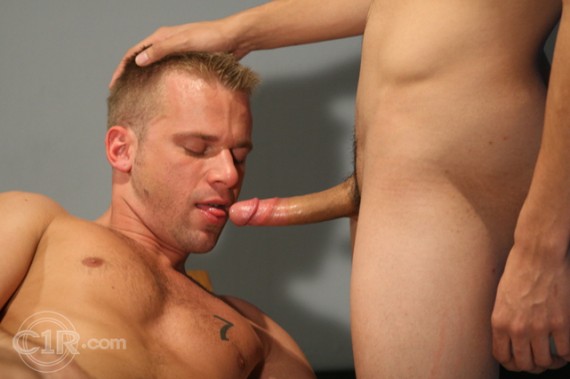 Scene three and Domenic Pacifico and Fabio Stallone are admiring Brent Everett jerking off in a back alley before his interview before hot top Domenic pounds Fabio on his knees in a hot fuck where we get to see great shots of the guys' butts. Then it's time for Brent's interview and we're introduced to sexy-as-fuck twins Luca and Liam Rosso for the first time.
Now at first you could be forgiven for thinking that this a set-up from the show Candid Camera as both twins, dressed in identical outfits come out of separate doors and confuse the hell out of young Brent. But when he eventually realises that they're identical twins he says, "A pair of hot twins! Fuck the interview. I wanna fuck both of you!" And so all three get down to action and Brent becomes the filling in a fucking hot twin sandwich before both twins spunk over him… This must be the best gay twin fuck movie we've seen this year and QXMEN highly recommends it!
---
Available at Prowler, Expectations, White Tiger and all good video stockists.
---