Disowned by his parents, naïve 19-year-old virgin Colin – Darius Ferdynand – accepts an offer from a man he meets in a chat room and moves to London. There he finds himself thrown into a world of perversion, trickery and sexual desire surrounded by muscular men with dirty minds and giant dicks. From houseboys to masters, this is a whole new world for Colin… and he loves every thick throbbing inch of it!
The opening scene sees Colin arriving at the grand London house of Max, played by Issac Jones. They get to know each other a little on the sofa and upon discovering that Colin is still a virgin, Max wastes no time in seducing him, and fucks the wide-eyed country boy in various positions ensuring that Colin is in no way a virgin any more.
The next morning Colin is exploring Max's vast house when he hears strange noises coming from the drawing room. Peering through a crack in the door he sees a young guy (Jake Lyons), who he later finds out is called Daniel, lying facing down on a large dining room table while Max is spanking his pert furry bubble butt and fingering his tight puckered hole.
Flipping him over, Max sucks Daniel's meaty cock before gets on top of him and face fucks him. But it's Daniel's cute butt that Max has set his sights on and he's soon fucking the boy before shooting his load in his mouth.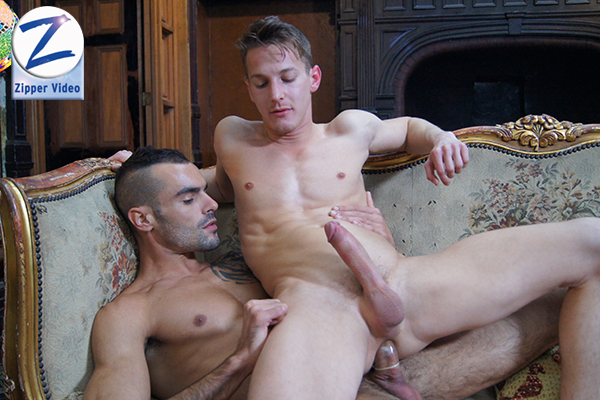 There seems to be a constant stream of hot young guys having sex at Max's house and when Colin discovers Lloyds Adams and Lukas Davidson having sex while Max films them, he notices other cameras hidden around the room filming the kinky action from different angles too!
We don't see Colin have sex with Max again, but Colin seems to be happy living in the big house away from his parents. He pays no rent either and earns his keep cleaning and tidying – in the nude! We meet Daniel again at the end of the film when a chance encounter with Colin leads to a mind-blowing sex session between the two young hotties!
• Available from Prowler, Expectations, White Tiger and all good DVD stockists, and at www.ProwlerDVD.com.