When Trojan Rock's workforce need reinvigorating, he calls his mate Jack Jones to ask if he can send a few of his guys over to give his team the kick up the arse they need. But once the new recruits arrive it turns out that they're just as lazy and just as sex-crazed as Trojan's guys are…  And, rather than giving them a kick up the arse, the hot new recruits give them a dick up the arse!
Felix Barca, the first guy to jump at the chance of an all-expenses paid work/vacation to London, is paired up with that horny French stud Thierry Lamasse, but he's not in the mood for doing any work. And when Thierry's up on a stepladder with his crotch at face level, Felix can't resist and pulls his cock out of his overalls.
Thierry loves to fuck and he pushes Felix down on his back, grabs his legs and fucks his hole hard, only to pull out at the end to shoot a thick load all over Felix's cock and balls.
In the next scene, QXMEN's readers' favourite, Spencer Reed, is the new recruit and he's been paired with blond hottie Scott Hunter. Like most workman, Spencer's sat on his arse drinking a cup of tea.
However, unlike most workmen, he's checking out his co-worker's arse! Unable to contain himself any longer the American beefcake grabs Scott by the collar, bends him over and fucks him hard up against a stepladder.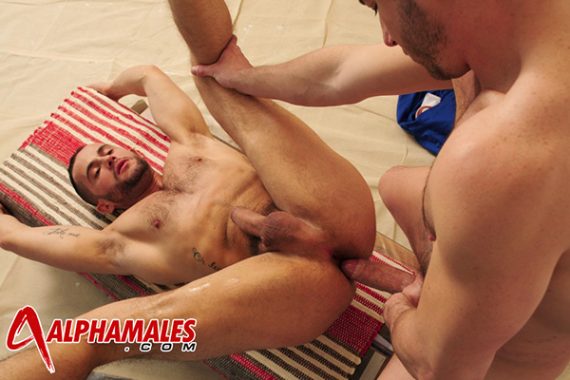 Thierry Lamasse is back in the next scene and this time his new work buddy is sexy fucker Tate Ryder. The guys take delivery of a new sofa and decide the best way to make sure that it's sturdy enough for use by the general public is to fuck on it.
Sounds sensible to us and we're sure that's what the staff at DFS do with all their new sofas. Thierry rips a hole in the back of Tate's overalls and starts playing with his hole, alternating between using his mouth and his fingers.
Soon Tate's on all fours and Thierry, ever the obliging top, fucks his arse 'til both guys shoot. Nathan Price and Conner Habib decide that there's nothing else to do but fuck when they arrive at work to find they can't do anything because the guys before haven't finished their jobs yet.
So they get naked and 69 before taking it in turns to fuck each other in the final spunk-splattered scene!
• Available to buy at www.eurocreme.com or watch high quality streaming at www.Eurocreme.tv