Pierre Fitch heads a cast of ten hot guys, all of them ready and waiting to show what they're made of! We guarantee that each of the five scenes will make you drain your load…
When Manuel DeBoxer sees Brandon Jones in a hotel lobby he follows him up to his room where he finds him sprawled on the sofa wearing nothing but a pair of white Calvin Kleins. The horny bottom is soon facing the wall, his bubble butt pushed outwards with Manuel fingering his hole, getting it ready for his cock.
They move onto the bed where Manuel deep rims Brandon's hole before sliding his cock in and fucking him hard and fast. Johnny Venture is looking around to see who he can bend over and fuck like a dog when Ryan Russell catches his eye.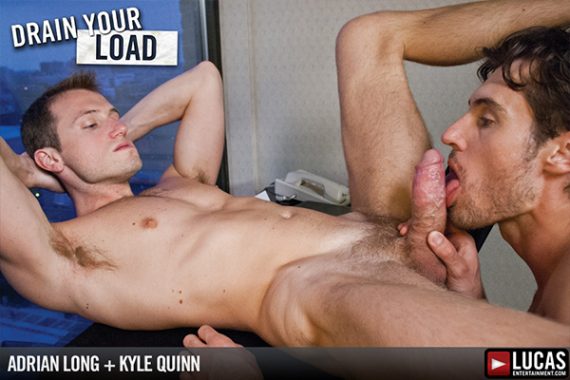 They head back to Ryan place, where he first discovers the monster in Johnny's pants. Johnny loves fucking, and when he enters Ryan he's anything but gentle. Nick Ford lures Adam Avery back to his apartment where he tears into the young man the minute the door shuts. After some heavy oral action, Adam, who's a hungry bottom, shows off his talents at getting fucked and straddles Nick who's sat on a chair.
It's a slow day at the gym, and that's just how Pierre Fitch likes it. But when Sam Steel walks in he pulls down his gym shorts and recline back on the weight-lifting bench so that Sam can get to work on his cock. Sam's a submissive bottom and he makes it his duty to worship every inch of Pierre's hard cock, before Pierre bends him over the bench and fucks him hard. Adrian Long is cruising the city of Montreal when he spots young hottie Kyle Quinn.
He entices Kyle to follow him back to his room where they share some kissing before Adrian sits down and waits for the blond cutie to come over and start working on his uncut cock. Kyle immediately sets to work and opens up his throat to take every inch of Adrian's cock.
Adrian isn't totally selfish, and he returns the favour by sucking Kyle's cock and eating out his hole. But Adrian also has an ulterior motive and what he's really doing is prepping Kyle's arse for a deep hard fucking. Kyle winces when Adrian's cock goes in but soon the guys are fucking like crazy!
• Available from www.LucasEntertainment.com