The antics at the hottest venue in town keep getting sexier, and when The DreamBoy Hotel hosts a Bachelor Party for hot young couple, cute Latino Jonny Garcia and his groom-to-be hot top Brendan James, you can bet that things are going to get very horny indeed!
Scene One, and it's the day before the bachelor party. The loved up couple show us just how much they're into each other and why they're getting hitched. The boys are worried that they're heading for a sexless marriage (even though it's only been five minutes since they last had a hot session) and strip out of their clothes.
They're both rock hard in seconds and Jonny tucks into Brendan's long solid cock. They might be getting married, but these boys fuck like it's their first date, and Jonny gets screwed something rotten by top boy Brendan before shooting his load all over his face!
Scene Two and Jonny is escorted blindfolded by QXMEN favourite Darius Ferdynand into The DreamBoy Hotel for his surprise bachelor party. Darius and Hotel Manager JP Dubois share a knowing smile and a quick kiss before JP takes Jonny to the room where the party's to be held. Still blindfolded, Jonny thinks it's Darius with him, and so happily sucks the cock that's thrust in his mouth.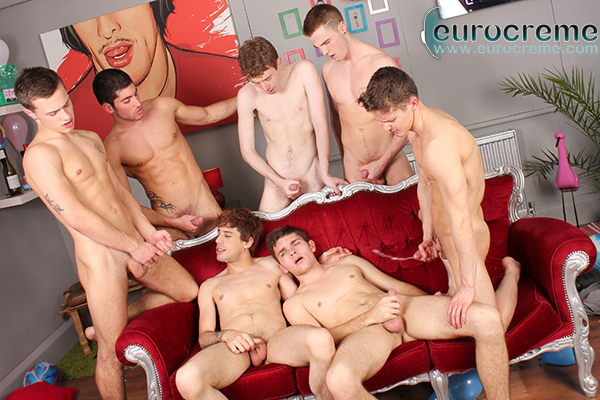 But he's not disappointed when he finds out that it's JP's and decides to indulge in some last minute fun before getting hitched! Darius soon enters the room and Jonny gets spit-roasted good and proper with JP and Darius swapping ends giving the groom-to-be the perfect wedding present!
Scene Three and hottie Billy Rubens is manning Hotel Reception when in walks cute, curly haired Mark Snow with Brendan. Horned up Billy wants him but Brendan isn't so sure he should. But as Billy slowly strips, exposing that hot body of his, Brendan's face lights up and soon Billy – a champion fucker – is screwing Brendan's hole!
Scene Four is a hot solo featuring Brendan's friend Mark wanking his cock and then shooting his load as he watches a video of stripper, sexy Mediterranean Leo Domenico, who he's booked for the party, before we get to the main event, the bachelor party! And being a DreamBoy Hotel movie it's no ordinary party – it's a spunk-splattered seven-man orgy!
• Available to buy at www.eurocreme.com or watch high quality streaming at www.Eurocreme.tv