You know the feeling… Moments before you're about to shoot, when the tingling in your cock is so intense and your balls are so full of cum they feel like they could burst at any minute! And when you do finally cum you have one of those orgasms that's so intense you see flashes of white light in front of your eyes. Well, directors Bruno Bond and Steve Cruz know that feeling and we and guarantee that if you watch their latest Hard Friction DVD, it will give you a Full Release… multiple times!
Two of our favourite inked hotties are up first, Ty Roderick and James Ryder. James takes his time sucking on Ty's meaty curved boner, until it goes for it's ultimate destination, his tight hole.
They fuck hard and fast before James screams that he's ready to shoot, signalling Ty to pull out, time his cum shot to match his buddy's, squirting his Full Release into James' mouth, as James dumps his all over his abs.
Mitch Vaughn is up next and we find him sucking the tongue of furry hunk Johnny Parker. He soon gives up sucking and offers that perfect arse of his to Johnny whose cock goes in like a heat-seeking missile.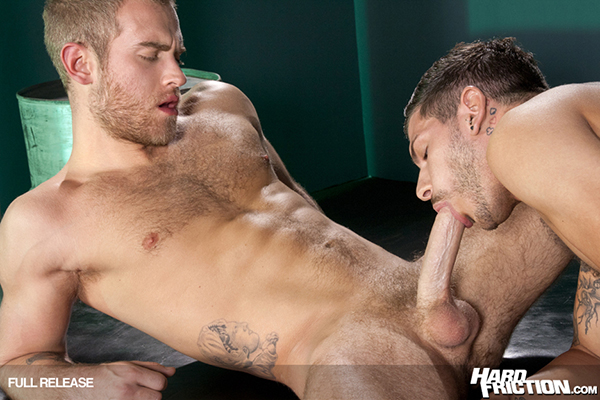 The big surprise though is when Mitch decides a change is in order and flips Johnny over and fucks him back! Scene three and horse-hung Keiran and Jeremy Stevens take centre stage.
Keiran's got a huge, heavy cock that's fat and hard, and it's like a red rag to a bull and Jeremy shows just how much he wants it by kneeling with his legs spread and lifting his buns up high.
Keiran tries out Jeremy's sweet hole with his tongue before pushing his cock against it and then deep inside. In the final cum-splattered scene Tristan Mathews is squatting over Shawn Wolfe, giving him a taste of his twitching hole as he works the shaft of his cock.
It's not long before Tristan sits himself down on Shawn's rock hard cock and then they change positions so that Shawn can drill his cock deep into Tristan's butt to the point of cumming.
And when he does, Shawn's Full Release is an award-winning, multi-squirt cum shot which not only lands in Tristan's mouth but all over his hairy chest too!
• Available in all good adult DVD shops and online at www.SimplyGayDVD.com.