At the start of the film, Paddy O'Brian tells us that he loves being a copper. His dad was a cop, his grandfather was a cop and, although Paddy loves keeping the criminal element at bay, he tells us that there are plenty of bad cops out there too…
18-year-old Beau Samuels is getting touched up in his bedroom by hunky copper, Randy Jones. The sexy, young lad is already just in his underwear and soon Randy's police uniform comes off.
Once on his knees on the bed, Randy tongues the lad's hole and then gets him to return the favour before screwing the arse off him with his fat cock and then shooting a thick creamy load over his face.
Sergeant Ben Brown is another bad copper and we meet him next as he's sucking the face off Bruno Knight. These two guys are fit as fuck and it's obvious that they're both really into eachother.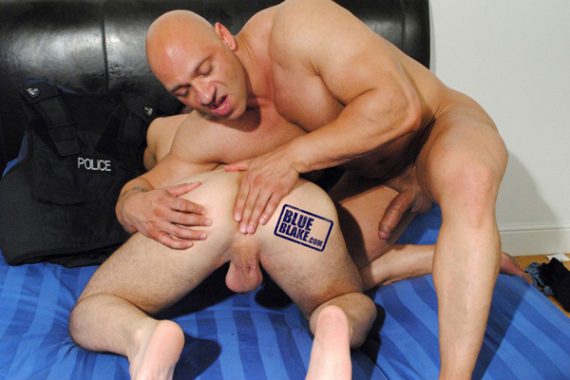 Bruno gets down on his knees, pulls Ben's cock out and sucks on it before turning him round, spreading his meaty arse cheeks apart and licking his hole. By now, the sight of these two naked studs sucking each other's cocks and licking each other's holes has got us rock hard and it takes all of our self-control not to knock one out at this stage.
But once Bruno starts fucking Ben we couldn't help ourselves and blew our load! Next up, sexy French stud Isaac Jones is down on his knees licking Randy Jones' boots before going down on all fours and getting fucked deep and hard.
Then comes the scene that we've been waiting for… It's rare nowadays that we get excited about a solo scene but ever since we heard that Paddy O'Brian sticks a truncheon up his arse in this film we've been dying to see it.
And we weren't disappointed. Watching the sexy East End lad wanking his cock and sliding a butt plug and then a truncheon up his tight hole until he shoots his load was enough to make this seasoned porn pro shoot his load for the second time!
• Available on download to own in standard or hi definition from Eurocremestore.com.
Head to BlueBlake.com for more info