The UK's horniest gay bar is open all hours and one manager spends his shifts jacking off to the security footage. Check out the kinky activities he stumbles upon; from training staff to take two dicks at a time, to taking advantage of drunk customers in the toilets. These barmen spend more time pouring spunk down each other's throats than drinks. In short they're all Absolute Sluts!
---
Scene one and Mikey Taylor is taking a piss in the toilets and Jonny Castle is cleaning the sinks. It's obvious that the two twinks have the hots for each other and soon they're tearing each other's clothes off and sucking each other's stiff cocks. Mikey's the top and he power fucks young Jonny's quivering boy butt hard and fast, quite literally banging the spunk out of him, in the ball-draining introduction to Euroboy's Absolute Sluts!
Mickey Taylor back in scene two and he gets well and truly fucked in position after position by hard man Lee Will in a scene that looked like it was testing his extensive bottoming skills!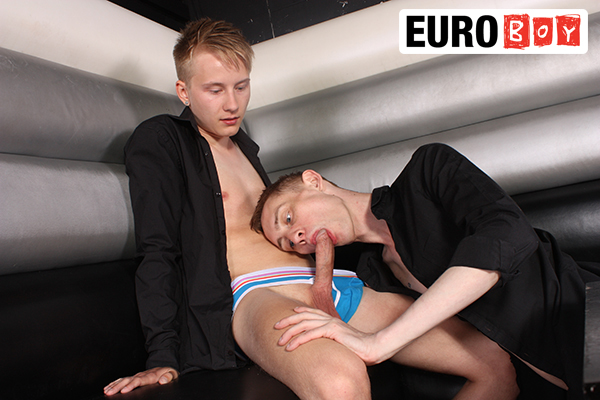 Next we meet sweet and innocent Corey Conor. It's his first day on the job at the bar, and Ashton Bradley is taking his induction. They aren't at bar tending for long before these two twinks are hard at and all over each other, sucking and fucking on the lounge's bonkettes… Well, that's what they're called!
Corey Connor's first day on the job is one he'll remember for a long time as net he's involved in a hot three-way with Jacob Daniels and Sky James! It turns out that all three lads have a lot in common. They're all sexy young twinks. All three boys have insatiable sex drives. And, lastly, they're all card-carrying absolute sluts. This absolutely slutty twink-on-twink-on-twink three-way will have you on the edge of your seat… Just before you shoot your load!
• Available from Prowler, Expectations, White Tiger and all good DVD stockists, and at www.ProwlerDVD.com.