Euroboy's horny young choirboys have been sent away to serve our Lord and to cleanse them of their sins, but no amount of praying is going to make these lads pure again! In fact, when they get down on their knees to pray they just end up sucking cock, and these naughty young choirboys drink more spunk than they do holy water! Forgive them Father for their sins… Not bloody likely. When it's their time to go, these lads will be getting a one-way ticket… to hell!
In scene one we find two seemingly innocent young choir boys dressed in their ecclesiastical robes stood at the church alter.
Then it dawns on us that these two young tearaways are getting pissed as farts on the vicar's holy wine! Could they be any more disrespectful in a house of the Lord, we ask ourselves? And as if to answer our question, one of them hoiks up his robes and his gets down onto his knees and sucks him off before they fuck each other like rabbits! Scene two, and another two choirboys kneel in front of the alter, their hands clasped together in front of them ready to pray.
But all it takes is a cheeky side-ways glance from one of them and they've soon got their tongues down each other's throats and are snogging the face off each other. Once again, these randy little choirboys are going commando under their robes and they're soon sucking each other's stiff cocks before fucking each other senseless!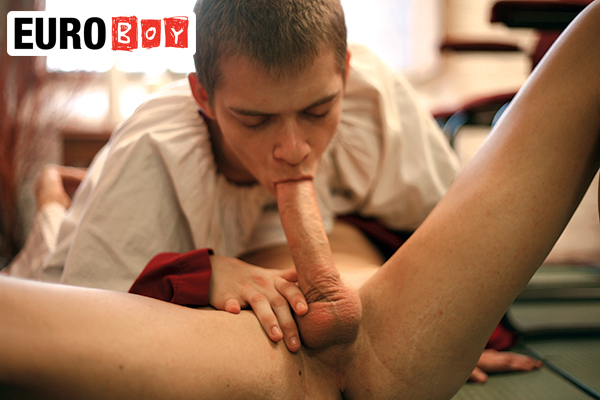 Two young Goth choirboys are waiting to see the Priest and lucky for them he's running late on some church business, as they can't control their teenage urges and end up fucking each other on the vestry floor! The lovely Luke Desmond is playing what looks like the role of Archbishop Desmond Tutu in the final scene and he's trying to rid the horny young choirboys of their inner sinful demons.
We don't think of Luke's methods though, as we can't see how getting them to suck his cock and then making them suck each other in a 69 position is going to teach these naughty choirboys the error of their ways and put them on the road to redemption… But it's fucking horny to watch!
• Available from Prowler, Expectations, White Tiger and all good DVD stockists, and at www.ProwlerDVD.com.