Take nine horny hung studs and send them to a secluded log cabin in the mountains for a weekend and you have the makings of a quintessential porn flick. And if there's one studio which knows how to pull off a great log cabin porno – think Other Side of Aspen, Cabin Fever and Mountain Tops – then it's Falcon Studios.
For their Spring Blockbuster, the San Francisco based porn powerhouse enlisted the talents of leading director cum porn star Bruno Bond to seek out an exceptional cast and "He hit it out the park with some of the biggest stars on the planet!" said Chris Ward, Falcon & Raging Stallion Studios President.
"Alpine Wood, Part 1 is 100% Blockbuster material." Featuring nine lip-smackingly hot hunks such as QXMEN favourite Landon Conrad, Ryan Rose, Jimmy Durano, Luke Milan and Angel Rock, Alpine Wood, Part 1 also stars some hot new Falcon faces like Kayden Fleming, Ricky Decker, Nick Sterling and Chris Bines.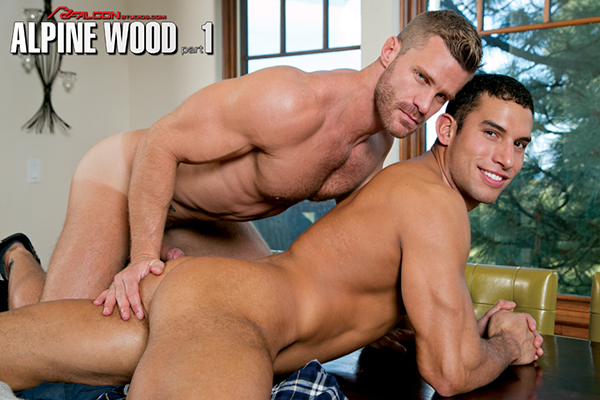 Being late for breakfast leaves Landon Conrad with nothing to eat except Ricky Decker. Ricky's up for it and with his cock and hole raring to go, he cums likes there's no tomorrow. A hot bath is the perfect antidote to a cold hike for Nick Sterling and Angel Rock and Nick's strapping torso makes Angel's cock swell to new heights.
In a ball-draining three-way, steamy vapours of the hot tub send Jimmy Durano, Luke Milan and Angel Rock into an oral frenzy, and Luke's energetic sucking triggers hungry cum eating. The noise made by Ryan Rose and Kayden Fleming in an upstairs bedroom, as Ryan's mouth and hole offer twin temptations for Kayden's lust, has everyone's cock twitching.
When Jimmy Durano and Chris Bines come in out of the snow, they certainly know how to warm up fast. Jimmy's torso is ripped, and can Chris handle it?
Yes he can… This mountain retreat filled with raging hormones will have you longing for a getaway in the woods where you can share some impulsive, exciting sex just like the studs in Alpine Wood, Part 1.
• Available from Prowler, Expectations, White Tiger and all good DVD stockists, and at www.ProwlerDVD.com.