We've loved every one of Lucas Entertainment's Auditions films and No. 37 Balls To The Wall must be one of the most aggressive to date. Once again, the studio has paired up a stunning selection of international stud muffins and, after a brief interview, set the camera to record and let the guys get down to business.
Harry Louis and Mike Colucci are up first and Harry is in seventh heaven when he's faced with Mike's amazing Venezuelan arse and adorable face. He doesn't waste a second getting his tongue into that tight hole, and soon Mike's begging him to fuck him. Harry gives him exactly what he wants and Mike rides Harry's cock like a champ before Harry starts pounding it mercilessly.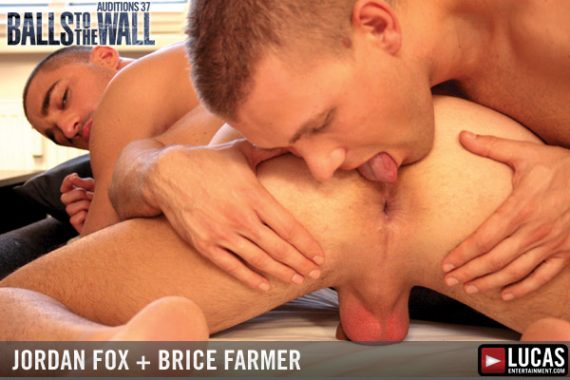 Jay Roberts and Ivan Rueda feature next and after Jay face-fucks Ivan, the blue-eyed Spanish hottie bends over to take Jay's thick tool and gets an aggressive fuck of his life. The boy with the amazing arse, Mike Culucci, is back in scene three and this time he's paired with horse hung Adam Killian who strips him naked and dives straight into Mike's tight little hole tongue first.
Mike takes out Adam's massive hard cock and deep throats it before Adam flips him over for more butt play, clearly one of the tattooed top's favourite pastimes. The guys 69 with Mike sucking Adam's cock while Adam slurps on Mike's immaculate hole, then Adam finally mounts his boy and fucks him until he explodes across his perfect pecs.
Michael Lucas whips out his huge cock for Scott Carter to suck on next before munching on Scott's hairy man hole. Scott loves it so much he starts pushing his arse down onto Michael's fingers, loosening up his hole in readiness for Michael's monster cock. And Michael doesn't waste any time and soon starts pounding away at Scott's wide-open hole.
Sexy French boys Brice Farmer and Jordan Fox are the final two up for audition and their performance is worth waiting for. It seems like Brice's sweet arse has been tempting Jordan all day and after sucking each other off, Jordan ploughs Brice's perfect butt good and hard.
---
Available from www.lucasentertainment.com
To watch other Lucas Entertain Films on QXMEN.TV now, CLICK HERE!
---