It looks like there have been some changes at Euroboy lately as the models the studio are using appear to be different. Don't worry, they're all still cute young twinks with smooth, milky white skin and slender physiques, but there's one big difference, they've now all got big (and we mean way above average) cocks.
All six boys that feature in Bad Babysitters, the studio's latest twink fuck-fest, are no exception to this new rule either, as they've all been blessed with trouser snakes (or should that be pyjamas snakes given the theme of the film) which look far too large for their slight frames.
Needless to say, none of the lad's jimjams stay on for long when bedtime turns to playtime and sleeping is the last thing on the minds of the horny young scamps at the Euroboy household.
Note to any parents who might be reading this: Please be careful who you leave your children in the care of! Yes, your little darlings may be naughty and can't be trusted to stay home alone, which is the reason why you hire a babysitter to supervise them.
But do you know just how badly behaved the babysitter could be? Sucking their young cocks while they sleep, eating out their tight puckered holes and fucking their virgin arses wasn't quite what the parents of these Euroboys twinks had in mind when they brought in a babysitter!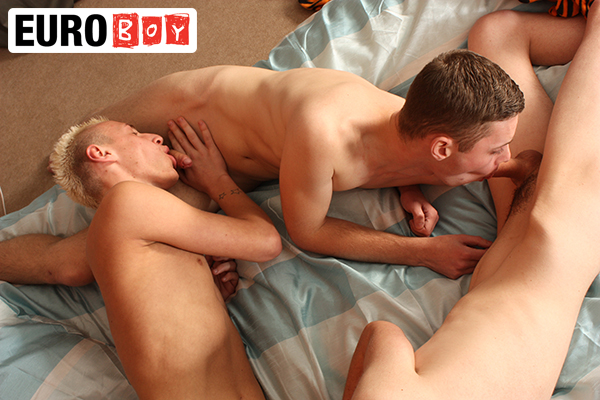 The shenanigans in scene one give you a flavour of what the rest of the film is like. When young Aiden Jason decides that he needs a bedtime story to help him get to sleep his good friend Reece Bentley takes the role of the babysitter who, you've guessed it, turns bad!
No sooner has Aiden fallen asleep, and Reece grabs his chance to get what he's always wanted – a hot fuck with his best friend. And that's what he gets because luckily for him, it appears that Aiden is hungry for some action too.
He swallows Reece's meaty cock, quickly making it rock solid and ready to slip into his tight hole, and Reece fucks him hard until they both explode in streams of boy spunk! There are three more 'bedtime turning into playtime' scenes in Bad Babysitters to get you off, including a playful, yet hardcore three-way.
• Available from Prowler, Expectations, White Tiger and all good DVD stockists, and at www.ProwlerDVD.com