London truly is a melting pot of cultures and nationalities, and you'd be hard pushed to find many true born and bred Londoners living here. In fact, most guys you meet have either moved to the capital from other UK towns and cities, or jetted in from Europe and beyond. So when Lucas Entertainment came to town to film one of their UK features they found one of their sexiest international casts yet!
Watching scene one we can't decide who's luckiest… Is it hot Hungarian, Marco Sessions, for taking sexy, floppy-haired Aussie, Woody Fox's, meaty cock, up his arse? Or is it Woody for getting the chance to chuck one up gorgeous Marco's tasty bubble butt?
Well, whichever, but both guys look like they're enjoy themselves after Woody invites Marco, who's travelling through England, up to his apartment and plunges his hard uncut cock into the power-bottom's meaty arse. Hot, blond Aussie, Mathew Mason and sexy newcomer Kayden Gray are up next, and when he catches a glimpse of the bulge Kayden's packing in his pants, über bottom Mathew is a man on a mission to get himself some of that prime Polish meat/Apparently, so-called 'gay for pay' Brit Paul Walker doesn't give his arse up very often.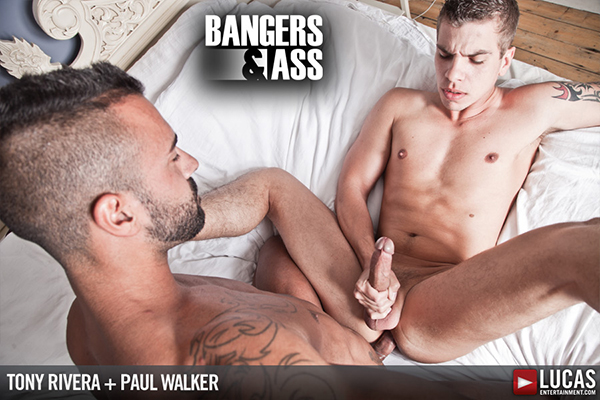 But when sexy Hispanic Tony Rivera cruises him, he decides he wants some Latin dick inside him to shake up his sex life. Paul can best take dick on all fours like a bitch in heat, so he gets into the doggy position while Tony gets started. But it's when Paul's on his back that the hardcore fucking truly begins!
Mathew Mason returns in scene four, and this time he's taking it like a good 'un on the kitchen floor from hot British fitness trainer Theo Reid. Scott Carter, one of the most famous hardcore power bottoms to come out of Spain, and the guys at Lucas Entertainment have expertly paired him with muscle-bound Swede Tomas Brand who wants to take out some of his sexual aggression on Scott's round, furry arse. The two start off sucking each other's cocks while Tomas digs into Scott's hole with his tongue.
Then it's time for some hardcore fucking, and this is when we see what Tomas really has to offer… Letting Scott know who's in charge, the fucking really doesn't get any better than this once Tomas starts pile-driving Scott!
• Watch now at www.lucasentertainment.com or buy the download or DVD at www.LucasStore.com.