Those guys at UKNakedMen have done it again and scored a blinder with their two hour, six scene fuckfest Big Dick French Adventure… Anglo French relations have never looked so good!
Dominant Frenchman Jordan Fox shows his nasty side in scene one when he catches hottie Riley Tess scrumping apples from his orchard. It's Riley's first visit to France and he's enjoying wandering through the picturesque French countryside without a care in the world.
So far the locals he's met have been friendly… That is, however, until he meets horny blonde hard nut Jordan Fox. All Riley did was pick a couple of apples, but Jordan goes ballistic and, shouting French expletives, drags Riley through a hedge and man-handles him to his back garden.
Riley does what he always does in times of crisis and offers to blow the horny Frenchman, which Jordan accepts greedily. But that's just the beginning of his plans for Riley's retribution, and a good hosing comes next – inside and out – followed by Jordan's special brand of dominant arse fucking and a face full of French cum!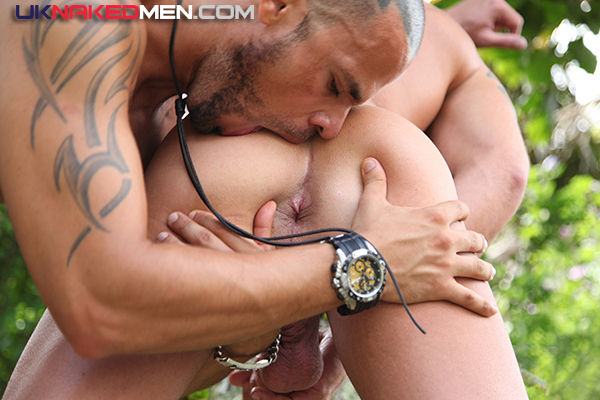 The dark, swarthy Juan Perez is up next and he's pitted against sexy blond Brit Kameron Frost. Juan loves being watched and can't wait to spread his cheeks for Kameron's milk bottle of a dick. It's a girthy piece and even insatiable Juan struggles to take it all! But once he's found his stride he can't wait to take Kameron's creamy load all over his face.
Riley's French adventure goes from bad to worse (or gets better and better – whichever way you look at it) and once Jordan's shot his load, he's left stranded on a lonely French country road… Horny Brit Craig Farell has been admiring Aymeric Deville's hot body and the impressive bulge in his trunks all day, and when it starts to rain it's the perfect opportunity to get the French fancy indoors and peel off his trunks.
Aymeric is soon arching his back and offering up his delectable arse to Craig's probing fingers, hot tongue and stiff uncut tool, before this hot French adventure is rounded off by a couple of sexy solo scenes; one with the gorgeous Jordan Fox and the other, a late night poolside wank with horny Brit, Riley Tess.
• Available from Prowler, Expectations, White Tiger and all good DVD stockists, and at www.ProwlerDVD.com.