These barely legal lads not only giant cocks, but they sure know how to use them too in Big Dicks Little Boys, Euroboy's latest twink fuck fest!
Scene one, and I'm greeted by the sight of two young cub scouts in their tent. Now, if you've read any of my reviews of British twink porn before then you'll know that I'm not the biggest fan of this type of porn.
What really floats my boat are confident vocal men who know exactly what they want and don't beat around the bush getting it. But if pretty young lads are your thing (and these two, one blond and one dark, are very pretty), then you'll love this first scene.
Scene two begins and I peer over the top of Take A Break as the next two 'little boys with big dicks' are a bit more rough and ready and so a bit more up my street.
The two young lads are going for it with much more gusto than the couple in scene one did – sweet as they were – and I'm happy to use the lines "he fucked his brains out" and "he gave his mate a good hard fucking" when describing the action… When one of the boys pulls his knob out from his jeans at the start of scene three I'm ready to rename this DVD 'Humongous Dicks Little Boys'!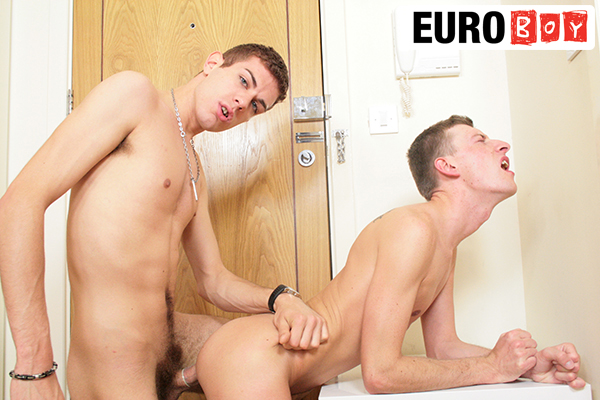 This floppy-haired, young skater boy is truly blessed in the trouser department and, boy, does his mate know about it when he shoves the monster shlong up his tight little arse! I'm pleased to say the dicks keep getting bigger, and the lads in the next scene have even bigger knobs than the hung one in scene three!
Euroboy certainly saved the best 'til last and the final scene of Big Dicks Little Boys is a hot four-way featuring a face (and cock) that I recognise. It's Luke Desmond, a boy who's not so little, but certainly has got a big old donkey dick on him!
He and a mate are caught messing around at work by their two hot young scally office managers. All four twinks are suited and booted and looking well tasty, and in that good old porn movie tradition, instead of being given some boring, menial duties as punishment, their two hot managers take it in turns fucking them over their desks.
• Available from Prowler, Expectations, White Tiger and all good DVD stockists and at www.ProwlerDVD.com.