It's Chi Chi LaRue's latest hot episode in the Black Balled series and we're at number eight! Entitled Behind The Eight Ball it's no real surprise that the action takes place on and around a pool table in a bar.
This time around, lucky white puppy, newcomer and insatiable bottom, Dylan Hauser is the centre of attention of ten black, big dicked men who gang bang him plugging both his holes!
A drunken Dylan stumbles into a bar and orders a drink. Looking round the bar he notices that everyone is staring at him, and then realises that he's the only white guy!
Soon, like a pack of hungry wolves, the ten hot black studs surround Dylan and lead him to the pool table where they strip him naked and feed him their cocks. At this point we must tell you that, while all ten black guys are hung, a few of them fall into the 'holy shit' category! Some may call him brave while others might say he's stupid but next thing Dylan says is that he wants to take all of their black cocks!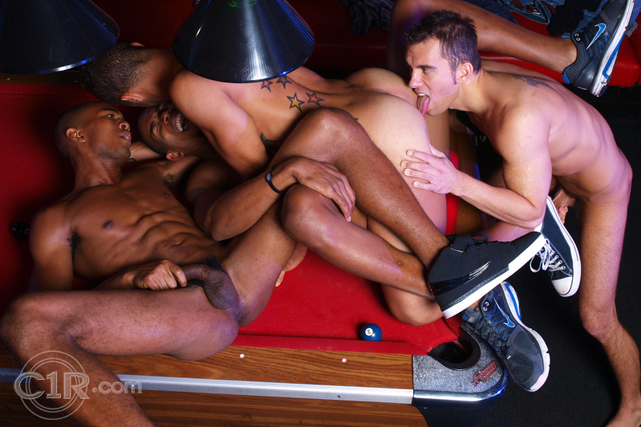 Next he's on his knees and one by one the black guys fuck him in his mouth, giving him a taster of what's to come. Then comes the ball-busting action that we've been waiting for, and we guarantee that you will shoot your load watching this! Bent over the pool table, Dylan takes all ten huge black cocks, asking for more each time one top guy has finished.
Watching one big black cock after another pummel Dylan's muscled white butt is porn movie gold. In addition to the arse pounding Dylan receives from the ebony studs, he has a mind-blowing intimate moment with a pool cue, which is not to be missed!
If interracial gangbangs float your boat – actually you don't even need to be into interracial porn, you just need to love good porn – then you'll love Black Balled 8: Behind The Eight Ball… We did!
•Available from Prowler, Expectations, White Tiger and all good DVD stockists.