Boys On The Prowl's top dog, Reece Bentley is back in another of the studio's documentary-style porn films in the back of their fuck wagon. Sit back, buckle up and watch Reece and his fellow bait boys as they drive up and down the country, picking up hapless young boys.
Scene one and we're introduced to Reece's mate Adam Watson as they drive around the streets of Manchester looking for their first victim. It's a quiet day but before long they spot posh public school boy Aaron, and with the offer of fags and money on the table, Aaron's soon sat between them on the back seat.
Within minutes Aaron's school uniform has been torn off and he's left wearing nothing but his school tie, tied loosely round his neck. He's got smooth, milky white skin and Reece and Adam take turns spit roasting him, before getting the young lad to take both of their cocks up his tight boy hole at the same time for a bit of DP (double penetration) action.
After more fucking, both tops shoot their loads over Aaron's chest and decide to pull into a roadside lay-by for a cigarette. But as soon as Aaron's stepped out of the vehicle they tell the driver go and speed off leaving the lad fuming and stranded in the middle of nowhere… Bastards.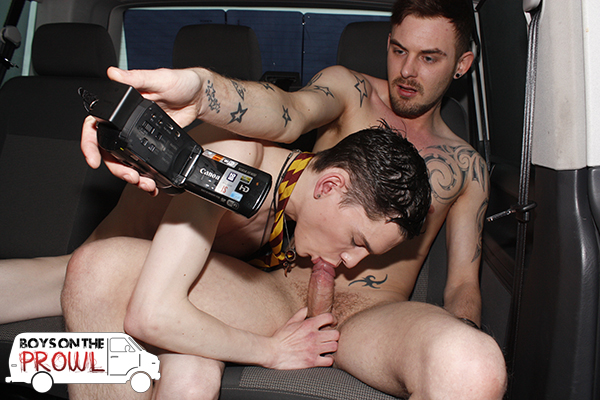 Sean McKenzie joins Reece on board the fuck wagon next and they trick a young football supporter called Troy into coming for a ride with them in return for a couple of bogus tickets to a Man U match. In true Boys On The Prowl style Reece and Sean tag team Troy before dropping him off with a sore arse miles from anywhere.
Adam Bentley's back with Reece in scene three and they pick up an East European lad in Manchester Airport's car park who's come to England to do a porn film. Reece offers to give him a lift to his hotel in Manchester and the lad accepts the ride, oblivious to what he's just let himself in for.
Lastly it's tasty West Country lad Sean McKenzie who joins Reece and they pick up another lad, also called Shaun, whose car has broken down. Shaun is a cute boy, but we'd have quite happily watched Reece and gorgeous Sean get it on!
• Available from Prowler, Expectations, White Tiger and all good DVD stockists, and at www.ProwlerDVD.com.