Love guys in jock straps? Well you're going to love Bulge from COLT Studio's Olympus range. Director Roland Dane serves up bulging muscles, bulging jocks and bulging mouths full of hot juicy cock…
Two sexy young studs David Sweet and Michael Troy are up first, both oiled up with tight, muscled bodies and wearing only jock straps. Michael's straight down on his knees to swallow David's cock before they suck each other in a hot 69.
Soon Michael's sat on David's cock riding it like a pro before he's bent over, holding onto chains for support, as top guy David fucks him hard and slapping his arse. Then they're down on the floor and David ramps up the speed fucking Michael fast and furiously until both guys shoot their loads.
We find Max Summers next on all fours locked in a cage being tormented by top guys Nick Nolan and Thai Mattox. Again, all three are sporting jock straps, but Max's is soon ripped off him and he's forced down on his back and made to suck one of his aggressor's cock.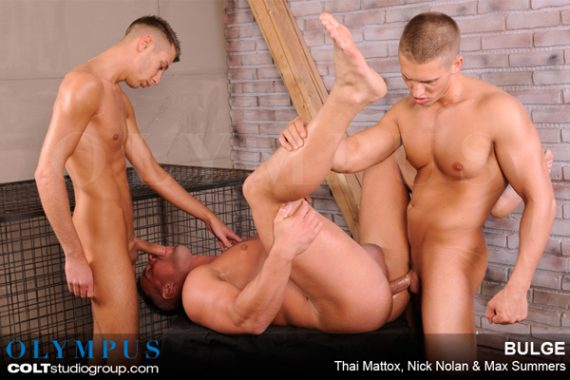 Next Max is put onto his knees and, as he's forced to suck cock, his meaty arse is spanked and primed with spit ready for the hard fucking he's about to get from Nick Nolan. The top guys take it in turn fucking Max until all three shoot – and we must admit, we came watching this scene too!
Sexy Junior is up next and he can't keep his hands off Sebastian Bronco's muscles. Sebastian has his sights on Junior's fat cock and it's not long before he's taking it hard and fast with young Junior fucking him like a pro in various hot positions.
Cigar-smoking, tattooed top guy Jack Dragon is getting his feet and muscles worshipped by submissive Michael Troy and Greg Wilson next. Jack forces them both to suck his stiff cock and lick his hole before hauling Greg over his knee, spanking his arse and then fucking his arse.
He then gets offers Greg's hole to Michael to fuck for a bit, but then grabs Michael and screws fucks him too… Boy, are these Hungarian guys hot!
• Available from www.COLTstudiosgroup.com