Have you ever been naked and strokin' it thinking you're all alone? And then you're BUSTED! That's exactly what happens to these caught out young fellas… only this time it's not your Mum, Nan or teacher. The intruders are hot, horny and all too ready to assist…
The mere sight of a locker room gives many a gay man a rush of blood to the penis – go on, admit it. Danny is no different, as he whacks out his slab of meat and gets watched by an enthusiastic Trevor. They soon get down to some frenzied rimming, sucking and fucking action over the bench.
Scene two takes us back to college, where Tony, horny and alone in his dorm room, decides to indulge in some extra-curricular cock beating. Only the ditzy queen forgot that his friend Aaron was soon over to study and is caught in the act. After this, the two get very little coursework done. What Tony lacks in studying skills he certainly makes up for in sexual prowess – he really would get an 'A' for deep throating.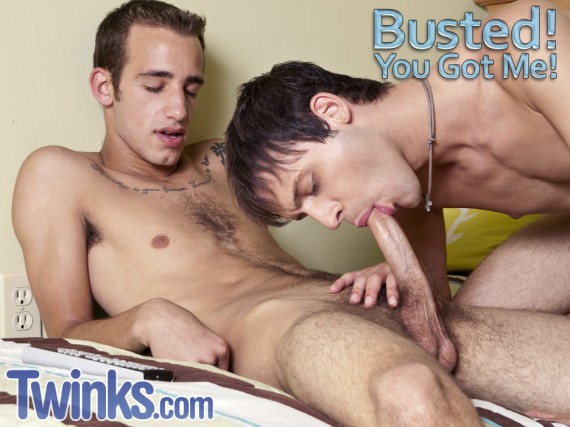 Aaron's back again in scene three, only it's his turn to get caught – taking a piss in an empty warehouse. Seeing a mirror, he starts admiring himself, only he's not alone – Parker is also a homosexual that frequents abandoned warehouses and they're soon going at it in the industrial surrounds.
Scene four sees a tipsy Kyle sitting at the bar. It's last orders, and it seems Kyle is more drunk than we thought, whacking his piece out and jacking off. Worst barman in the world Collin decides not to throw him out, but give him head. What these two lack in social decorum, they more than make up for in wankability with a hot oral scene.
The final scene sees Chad working up a horn at the gym and soon indulging in some self-pleasure. His buddies Patrick and Jake show up and a smokin' hot and energetic three-way ensues, riding every piece of gym equipment and resulting in three hot loads all over Jake's naked body. If only they'd have moved it to the locker room, we could have had a five-way with Danny and Trevor in scene one!
---
Available in all good adult DVD shops and online at www.simplygaydvd.com
---