Director Tony Dimarco's Cockwork stylishly pays homage to Stanley Kubrik's 1970's cinematic masterpiece A Clockwork Orange, the film set in a futuristic Britain that featured random extreme violence, hard drug taking and rough sex.
The stunning new release from Raging Stallion Studios uses the masculine imagery of the bowler hat, men's dress shoes, jock straps, socks and sock garters, and dresses the cast like we've never seen before in a porn movie.
Of course, the A-list stars, Exclusives D.O., Tom Wolfe, Jesse Santana, Heath Jordan, this month's centrefold Alexander Garrett, Cavin Knight and flavour of the month, hottie Marc Dylan, could be wearing stockings and suspenders and still look hot!
Looking dapper in their black bowlers and orange jocks, D.O. and Alexander Garrett open the movie and waste no time getting straight down to business. Alexander's on his knees worshiping D.O.'s thick cock, and D.O. begins his aggressive assault on his partner's arse. First he rims Alexander's hole, wetting it with slurps and tongue jabs, then he fucks it hard.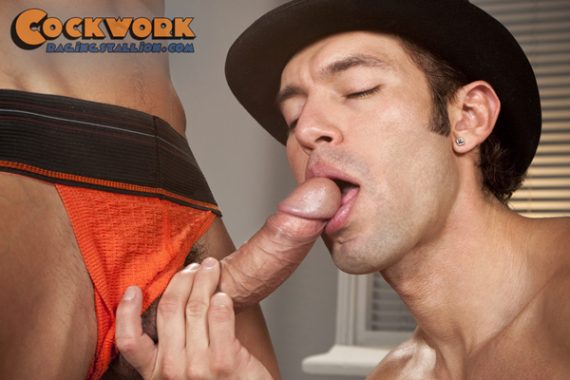 More excited rimming is followed rough fucking with D.O.'s cock, fingers and even a wooden juggling pin! Hotties Jesse Santana and Cavin Knight are up next and Cavin's a man on a mission, kneeling between Jesse's muscular legs and sucking on his ever-swelling cock. Jesse returns the favour and deep throats Cavin's dick like a pro, before the two gorgeous guys take turns to fuck each other.
Two hot and hairy studs, Tom Wolfe and Heath Jordan area match made in heaven, and when Tom grabs Heath's head and fucks his mouth, making him gag, we nearly shot our load there and then! But it's worth waiting for when Tom throws Heath down on his back and aggressively fucks his furry butt. D.O. returns for the finale of this visually stunning movie with muscle bound man of the month Marc Dylan.
In a ball-busting scene, Marc gets his smooth butt cheeks spread apart by D.O. and lubed up with his spit in readiness for his massive cock. And boy, he certainly needs as much lube as possible as D.O. is a ruthless power top that doesn't know the meaning of a slow comfortable screw! Who wants to see one of those in a porn film anyhow?
• Available in all good adult DVD shops and online at www.SimplyGayDVD.com