There's not many scruffy council flats we'd choose to spend an evening in but if the offer came from the lads at Triga to come round for a few beers and watch some telly, we might just take them up on the offer.
The scruffy council flat in question belongs to dole scum dad Steve (Triga's own words – not ours) and the lucky bastard gets a succession of sexy scally lads from the estate over for a few tinnies, a couple of spliffs and ultimately rough sex.
We start with Steve and three mates, one of which is sexy-as-fuck Tyson, and one young lad ends up getting fucked by all three blokes, including dad Steve who's got one hell of a big boner!
There's no cheesy script in Triga's films, only lines like, "Just turn 'im round and fuck 'im mate," and, You're fuckin' enjoying that aint you, you dirty little cunt".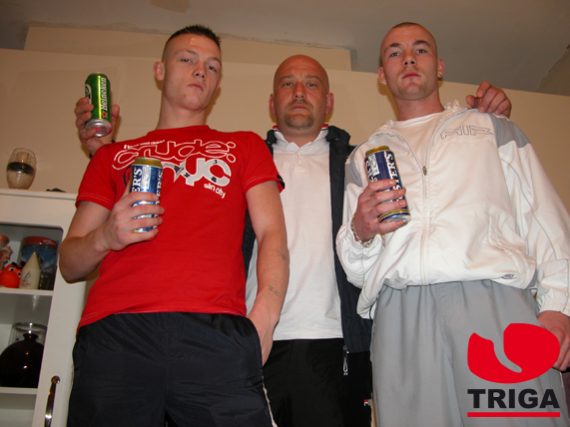 Kai Cruz pops over to the flat with his mate and he's filled out to become a mean, sexy geezer. Once Steve's finished fucking his mate Kai says, "So, you want me to fuck you as well?" and spits on his mate's hole, spanks his arse and shoves his hard cock in.
Steve obviously finds the sight of Kai fucking his mate horny as he dumps his massive load of gooey spunk on the guy's face.
There's certainly not many porn films where you'll hear the line, "Right I've had enough of this for now, I'm off for a Chinese," but somehow it seems to work with Triga and just adds to realness.
Next up and Steve's with five horny lads, including sexy Northern scally lad Danny, that hardcore Triga fans may recognise from previous films. This scene's a spunk-filled fuck fest where we're treated to Danny ploughing Kai's cute arse, three-way fuck sandwiches and plenty more sweat and spunk than we've seen in a long time!
And just when you think it's over, Saturday night comes around and lets just say that Triga have left the biggest cock 'til last… Save your spunk to the end 'cos you won't be disappointed.
---
Available from www.trigafilms.co.uk
---