Once again, FreshSX has scored a blinder, expertly pairing a hot selection of cute young lads with fit-as-fuck, dominant top guys old enough to be their fathers. In four scorching hot scenes these father figures bring a whole new meaning to the term parental control!
We're introduced to the dads and lads by way of a brief interview at the start of the movie, and it's beefy hirsute Aussie bear Aaron Cage who's the first dad to be paired with a young lad. He's 19-year-old British scally lad Luke Desmond and in a flash Aaron forces his face down onto his meaty cock.
There's no denying that Luke's impressive nine and a half inch cock is the larger of the two guys' but there's only going to be one cock doing the fucking in this scene and it's Aaron's. Once naked, Aaron slams Luke up against the wall before forcing him onto his hands and knees on the bed, his smooth white arse pushed up in the air ready to be used.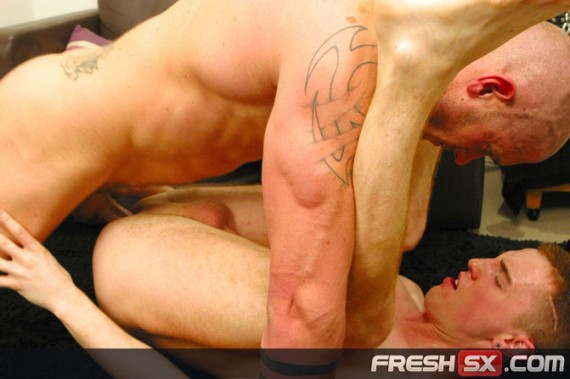 And we don't have to wait long for the hardcore dad on lad action as Aaron's soon tonguing Luke's puckered hole before lubing him up, stretching him with a couple of big black dildos and then screwing him long and hard on his knees then on his back.
Hungarian bruiser Randy Jones puts 22-year-old chav lad Ryder Hudson through his paces next, with hot tattooed new comer Harley Everett showing angelic faced JP Dubois exactly who's the daddy in scene three.
Then we come to our favourite dad and lad pairing. Sexy Spanish skinhead Aitor Crash has shown his rough sleazy side in previous outings and he certainly gives young twink Leo Mack a hard time in the final scene. Aitor dishes out some seriously harsh and kinky treatment on his hapless lad, face-fucking Leo hard until he gags, slapping his face and spanking his quivering, rosy butt cheeks before finally giving the poor lad an award-winning fuck of his life… Leo's one lad who we're sure won't be misbehaving again.
---
Available to buy online at FreshSXstore.com and all good DVD stockists.
To watch other FreshSX Films on QXMEN.TV now, CLICK HERE!
---